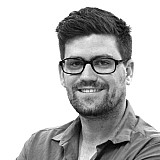 Jason Bright will make his 500th Australian Touring Car Championship/V8 Supercars start in Townsville next weekend – and he says he's only just this year learnt how to get a V8 off the line.
The Victorian made his debut in Australia's top tier of touring car racing back in 1997, driving a Garry Rogers Motorsport VS Commodore at Symmons Plains.
He has since raced for both the Ford and Holden factory teams, and racked up 20 race wins, including the 1998 Bathurst 1000 crown.
"It probably doesn't mean that much to me until I look at the guys who have done more than 500 starts, and there's only a handful of guys who have done that," he told Motorsport.com.
"By the end of this year I'll overtake Peter Brock for the number of starts… it's a lot of race starts! And I'm only just getting a handle on getting these things off the line…"
Starts still an issue
Despite having made just shy of 500 starts in a V8 Supercar, Bright admits that launching the cars has always been a weakness of his. However, he also says its an area that he's put particular focus on so far this season.
"If there's one thing I have improved this year, it's my starts," the Brad Jones Racing driver added.
"My starts have been shithouse. But this year, I've got much better consistency. I'm not losing positions off the line now.
"In the past, generally I'd lose positions. Now I'm either holding position or making up positions.
"That's a real positive to take from the first half of this year."