Subscribe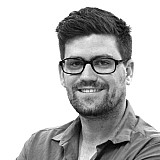 Tim Blanchard will switch from LD Motorsport to Brad Jones Motorsport for the 2016 V8 Supercars season.
The former Australian Formula Ford Champion made his main game debut for Dick Johnson Racing in 2013, before moving to LD Motorsport first as an endurance driver in '14, and then as a full-timer this season.
He is now set to make the move to the Albury-based BJR squad, replacing Nissan-bound Dale Wood in the team's third car alongside Tim Slade and Jason Bright.
"I'm pretty excited to join Brad Jones Racing next year," Blanchard said.
"They are proven race winners and have a lot of history in racing. Jason has extensive experience in the sport and I was a team-mate with Tim in Formula Ford. I've got history with those guys and am looking forward to working with them again.
"Working in a family team environment will be great. I think it will be well suited to my personality and the way I like to go racing, I think it will work really well.
"We've got a long family history in motorsport; same as the Jones family so being associated with a family team is good."
Team boss Brad Jones agreed that third generation racer will be a good fit in his family-run operation.
"I think Tim has a great racing pedigree, he is a third generation driver and his family have been around racing their whole life," said Jones.
"I'm very excited that he is joining the team next year and I think he will fit in well with the team we have here.
"Looking at Tim's history he was a state and national karting champion, won the Australian Formula Ford Championship in 2007, travelled to England and was the runner up in the Formula Ford championship there.
"Tim has been improving all season with LDM and we are really looking forward to working with him to continue his progression up the grid in 2016."