Subscribe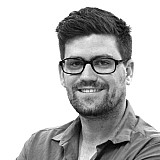 Simona De Silvestro says Bathurst is a "crazy" circuit after her first laps around Mount Panorama this morning.
The IndyCar and Formula E driver is pairing up with fellow Bathurst 1000 rookie Renee Gracie for The Great Race, the pair sharing a Prodrive-run Falcon FG X.
In this morning's opening practice session, De Silvestro managed to work her way down to an impressive 2m11.648s, less than a second slower than series regular Tim Blanchard, and close to four seconds faster than the time Gracie managed during Dunlop Series practice earlier in the day.
Her first thoughts on the winding Mount Panorama circuit? That it's crazy.
"Everything is crazy," she said.
"The first time you get on top of the hill you're like 'oh my god, it really goes down there'.
"For me, everything is so new. Even the car, I have to get used to it.
"I think it was okay. Now we have to look at the data and get quicker from now on. But I'm really happy with the first session, getting acclimated, knowing where to break and that stuff.
"It's an awesome place, and I'm really happy to be out there. it's great to finally get in to it, I'm really enjoying the place. It's a lot of fun, I'm really liking it."
Gracie will now have her first run in the main series-spec car, with the co-drivers set to have a 45-minute session.