Get alerts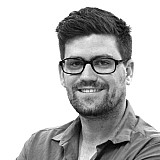 The rain has arrived at Mount Panorama, but Jamie Whincup and Paul Dumbrell continue to control the race.
The rain started on top of the Mount Panorama on Lap 92, sparking a flurry of pit-lane activity a lap later as everyone scrambled in for wets.
Leader Whincup was an exception, opting to do another lap on the damp track before pitting. He wanted to stay out longer, but was ordered to pit a lap later by his crew to take on wets.
The extra lap made little difference, Whincup currently leading team-mate Craig Lowndes by 31s.
David Reynolds is currently third, ahead of Luke Youlden, Lee Holdsworth, and Scott McLaughlin.
The #17 Penske car is currently sixth with Marcos Ambrose behind the wheel, although it was a brilliant finish to Scott Pye's stint that has the car in contention. Running behind Jono Webb in the #97, Pye knew had had to clear the car before the rain arrived as the two entries share one pit-boom.
He made the crucial move at the final corner on Lap 92, which was followed by a thrilling lap where the pair raced hard across the top of The Mountain. It ended up with Webb running wide at The Chase, and Pye managing to get to the pits first.
"That whole stint was unreal, that's the most fun I've had in a long time," said Pye.
"I had a good little battle with Webby there. That was critical, I knew that was our race. I'm buzzing now, I can't wait to get back in the car. Their race is a lot tougher now."
Van Gisbergen is now back in the #97, and running 11th after having to wait during the stops.
"It was a little bit frustrating, the car just wasn't quick enough," said Webb. "I made a small mistake, and he got passed me. And the rain was there two corners later.
Tim Blanchard and Karl Reindler's day came to a grinding halt early in the race's fourth hour, when Blanchard got loose over The Grate before binning the #3 Commodore at Sulman Park.
That means Reindler will have his first DNF at Mount Panorama.