Subscribe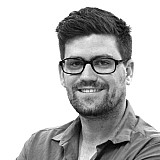 Shane van Gisbergen will join Triple Eight as a third driver for the 2016 season, but does that mean he'll be replacing Craig Lowndes in Red Bull colours? Andrew van Leeuwen argues that it could be the team's best move.
There's an interesting situation brewing at Triple Eight ahead of its 2016 campaign – and it centres around sponsors, and the third car.
What we know at this point is that Triple Eight will run (at least) three cars next season. Kiwi sensation Shane van Gisbergen has been signed, and the tender for the 26th Racing Entitlements Contract has been won.
So, what now?
What happens next centres around Triple Eight's deal with Red Bull. Perhaps there is scope there to up the deal to three cars.
Perhaps the deal will be upped to two-and-a-half cars, enough to make sure the primary colours on all three cars are Red Bull red and blue, and someone else from T8's arsenal of backers is called on to make up the missing half-a-car worth of sponsorship.
The most likely outcome, however, is that Red Bull's deal will continue to cover two cars, and a second major backer will be brought in as the title sponsor of the third entry.
The driver of that third, or non-Red Bull, car wouldn't necessarily be van Gisbergen. In fact, it would make more sense to pair Jamie Whincup and van Gisbergen in Red Bull cars, and shift Lowndes across to the other car.
The age issue
Despite his baby face and evergreen enthusiasm – and the fact he is still one of the sport's elite competitors – Lowndes isn't exactly a spring chicken.
He is, in fact, 40 years of age. That puts him at eight years older than Whincup, and 14 years older than van Gisbergen.
Red Bull is a company that targets the youth market. In that respect, van Gisbergen is a perfect fit. He's 26 years old, he has a spectacular driving style, spends his spare time drifting anything with wheels, and he's got fans on both sides of the ditch.
For a youth-orientated brand, which specialises in extreme sport, and is looking to keep its stranglehold on the energy drinks market throughout Australasia, it makes too much sense to put The Giz in a Red Bull car.
But it's not all about age…
The big sell
The real reason that Lowndes is the best candidate to be shifted over to a non-Red Bull car has nothing to do with his age, or Giz's suitability to the existing sponsor.
It's all about who is easiest to sell to a new potential backer.
T8 doesn't do things by halves. If a new sponsor comes in, it will need to be prepared to pay full freight for the right to slap stickers all over a car. And if it's Craig Lowndes' car, that price heads north even more.
Lowndes isn't just the biggest name in Australian motorsport, he's one of Australia's biggest sporting stars in general. Lowndes is a household name, and his tireless work with fans and sponsors is famous throughout the sport.
Whincup will probably one day go down as Australia's greatest touring car driver, Giz is a wonderfully wild driver with a massive future… but there's only one Craig Lowndes. And if you need to walk into someone's office and ask them to part with six figures worth of marketing cash, Lowndes is the man you want coming with you.
Put simply, he's the most lucrative and easiest sell out of all three drivers.
And that's why he won't be in Red Bull colours next season.