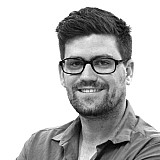 Between crashing into his team-mate and warning other teams not to step on their collective privates, James Courtney has become the V8 Supercars Villain this season. And it's exactly what the category needs, argues Andrew van Leeuwen.
What a year it's been for James Courtney.
Let's recap very quickly. First, there was that on-track run-in with Will Davison that spilled over into a televised argument inside the Holden Racing Team garage.
Then, Courtney crashed into his HRT team-mate Garth Tander. Twice.
And there's the off-track banter, like when he told the official V8 Supercars website that he fully expects Prodrive Racing Australia to step on its 'Dick Johnson' and throw away the title at some point this year: "Not worried at all – [Prodrive] tend to step on their d*** at a number of points through the year and we're just waiting for that to happen," was the direct quote.
Through it all, team-mate clashes aside, Courtney has been unapologetic. Which is 100 per cent the right attitude.
Just when the sport needed one, James Courtney has become V8s' villain.
All too friendly
When it comes to on-track biff and barge, V8 Supercars does it as well as any other category in the world. But off-track, it can all be a bit too… best friends forever. I get it; as the V8 circus heads from town-to-town, the drivers spend a lot of time together. They ride bikes together, they go to the same PR events, they've been racing each other since karts, and so on.
That's fine. Healthy respect between competing athletes is very important. But it's high-fives galore all too often, and it becomes a little boring.
The likes of Mark Skaife and Russell Ingall have done their bit to provide an antagonist in V8 Supercars in the past, but it's been missing a bit recently.
I don't know whether he's done it by design, or whether that cheeky streak comes natural to him, but Courtney has stepped up to the plate. And that's great news.
Is the villain really the hero?
Sport is the best reality television there is, because – for the most part at least – it is actually real. But for it to be a genuinely interesting product, not just on-track but in terms of its theatre, there needs to be heroes and villains.
That's the balance James Courtney has provided this year. He's like Kyle Busch, or Nick Kyrgios, or Anthony Mundine. These polarising personalities provide a spark of drama that's crucial to any sport, particularly if it's trying to spread its appeal beyond the hardcore fans.
I don't expect V8 Supercars fans to love James Courtney. In fact, it's kind of the point that fans don't like him.
But I hope there's a level of understanding within V8 Supercars that there's nothing wrong with that, and there's nothing wrong with how Courtney has acted this year.
He's the necessary evil, and from the PR department at V8s, and even Holden, he should be celebrated for it.