Get alerts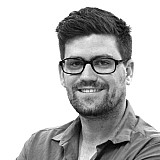 The majority of the V8 Supercars silly season talk has centered around Penske and Tekno so far this year, but it could it be that Volvo is a secret player in the 2016 driver market? Andrew van Leeuwen investigates.
It hasn't been spoken about much, but there could well be a vacant seat alongside Scott McLaughlin at GRM Volvo next season.
It's still reasonably early days in 2015, of course, and a great endurance season can turn any driver's season around… but the paddock chatter suggesting David Wall's spot in the squad is under threat is starting to intensify, to the point where one really has to consider why there would be all this smoke if there wasn't any fire.
Wall is a super likeable bloke, and a very capable driver. But there's no denying that he's struggled to match up to McLaughlin this season.
In a way, it's been kind of a perfect storm against him so far in 2015. There was the foot injury after Clipsal, the fact that he's having to learn the unique Volvo's characteristics on the fly thanks to a severe lack of testing in V8s – and most importantly that he's being measured against McLaughlin, a genuine super talent.
All of that adds up to a few tenths. And in V8 Supercars, a few tenths can be one end of the grid to the other. Chances are with a second season he could really close the gap to McLaughlin, but will he be given that chance.
It helps that Wall's spot in the team was influenced by its two major backers – Wilson Security and Payce Consolidated – but even that may not be enough to earn him a second chance. After all, team boss Garry Rogers is renowned for being a very good talent spotter, but equally short on patience. Just ask Jamie Whincup…
The situation is far from lost on Wall. He knows improved qualifying is key to turning his season around, and he knows that there are guys out there that would love to have his seat next year: "That's the same every season," he told Motorsport.com in Queensland.
"This talk happens about this time every year, no matter where I am or what's going on. I can just do the best job I possibly can, and all the rest will take care of itself."
Good seat… sort of
When the S60 is singing, it's a darned good racecar. No question about that. McLaughlin proved it time and time again last season, and even this year when it's not been hobbled by mechanical gremlins he's been fast.
The gremlins will be fixed, and potential suitors for the seat will be more impressed by the car's speed than concerned by its annoying little mechanical issues. From a performance stand-point, the likes of David Reynolds, James Moffat, or even Scott Pye (depending on what happens at Penske) could do worse.
"This talk happens about this time every year, no matter where I am or what's going on. I can just do the best job I possibly can, and all the rest will take care of itself."

David Wall on 2016
But here are a couple of downsides; one, GRM is unlikely to be offering a seven-digit pay day. And two, a driver has to be prepared to go head-to-head with McLaughlin, a well-rounded young talent that is already completely integrated into the team.
Sponsors, not drivers, dictating market
There's been a lot made out about Fabian Coulthard being the key to the driver market. In reality, he's not. He's an important part, but the key is sponsors.
The key seats for 2016 are still missing major backing, and that's what has the driver market at a standstill right now. Prodrive can't commit to a driver for the #55 car until they have a title sponsor. Ditto Tekno, and Nissan with its #99 car, and a potential second car at Penske.
Until the teams have the funding in place, they just can't be committing to drivers.
That's one advantage that Brad Jones Racing has should Coulthard decide to leave. The Freightliner Commodore will still be the Freightliner Commodore next season. The funding is there, all the team needs now is someone who wants to drive it.
The next big question will be if Volvo can hold on to its two sponsors even if Wall doesn't get a second season in Swedish blue. If so, then the #34 S60 will be a big player in the market as the silly season shakes out.