Get alerts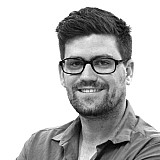 We're not yet half-way through the year, and already the V8 Supercars paddock is rife with silly season rumours. Andrew van Leeuwen looks at the potentially vacant seats, and who might be on the move.
The 2016 silly season is on a knife edge at the moment. On one hand, things could all fall into place and there could be minimal changes over the off-season. But if one or two of the crucial dominoes fall, we could see a rapidly different looking grid line up in Adelaide next year.
Coulthard the key
In terms of available drivers, Fabian Coulthard seems to be leading the way in terms of interest.
The experienced Kiwi is quick, more than quick enough to win races, and is as close to a 'big ticket' driver that's on the market for next season. He would be the perfect candidate for the Tekno seat being vacated by Shane van Gisbergen, or even at Nissan should James Moffat decide to go elsewhere. And one can assume he'd be at the top of any team's list if they were to be looking for a new driver next season.
Coulthard may, of course, decide to stay put. His seat at Brad Jones Racing us unlikely to be the most lucrative in terms of base wages, but he's well settled, the team is well-placed sponsorship-wise, and the cars are quick enough to win races on their day.
Unsurprisingly, Coulthard is staying tight-lipped on his future at the moment, simply telling Motorsport.com that he "wants to get it sorted as soon as possible."
Will Moff stay or go?
Moffat is another talented driver potentially on the market for 2016. The Victorian's contract with Nissan Motorsport is up at the end of the season, and with good backing and plenty of ability, he's also being rumoured as a prime candidate for the Tekno seat.
Motorsport.com understands that Nissan is keen to keep Moffat in an Altima for the 2016 season, which would make re-signing and the Tekno drive both front-running options.
Changes at Prodrive
There will almost certainly be a shake-up at Prodrive Racing Australia next season.
Firstly, David Reynolds is expected to be a free agent for next season. Should that be the case, he would join Coulthard and Moffat on the list of desirable, and hugely capable, candidates for the Tekno drive. Reynolds endured a tough season with PRA last year, but has shown plenty of pace since getting his hands on the more agreeable FG X update.
How PRA looks next season could largely depend on what happens with Super Black Racing. SBR's Racing Entitlement Contract is likely to be headed back to Penske next season, which means the satellite outfit needs a new licence if they want to keep racing. The licence Reynolds' car currently uses could, in theory, be leased to SBR so that the relationship with PRA can carry on.
Percat also in the hunt
The dark horse in the silly season race could be Nick Percat. Motorsport.com understands the 2011 Bathurst 1000 winner's contract with LD Motorsport is for one year, with an option for another. In other words, should he get a look at the Tekno seat, or any potential openings at BJR, Nissan or even Prodrive, he could very quickly become available.