Get alerts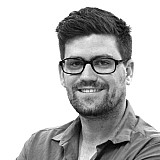 The rumoured link up between V8 Supercars and the Bathurst 12 Hour could result in V8s' pre-season test taking place at Mount Panorama. It's a sexy idea, but would it really work? Andrew van Leeuwen investigates.
Let's get one thing straight; V8 Supercars never look better than when they're rattling across the top of Mount Panorama.
A V8 at full bore across the top of The Mountain is, in my opinion, one of the best sights in motorsport. Anywhere. It's brutal, and it's spectacular.
But as crowd-pleasing as it would be to drag 26 V8s out to Bathurst in February for a pre-season test, it might not actually be the best thing for the teams. Motorsport should be fan-friendly, sure, but with the strict limits on in-season testing imposed on V8 teams and drivers, a useful, productive pre-season test is crucial for the racing product when the season proper gets started.
Scheduling
The first issue is fitting both a 12-hour GT race and a meaningful V8 Supercars test into one weekend.
At this year's 12 Hour, there were four one-hour practice sessions on the Friday, a fifth one-hour practice on Saturday morning, a total of 1h20m worth of qualifying on Saturday afternoon, and then the race on Sunday.
Meanwhile, over at Sydney Motorsport Park on the exact same weekend, there was seven hours worth of V8 Supercars testing on the Saturday, and 3h50m of testing on the Sunday.
In order to make it all fit, the meeting would probably have to be extended by a couple of days.
The risk factor
The scheduling problem rolls into another issue – the inherent risk that comes with driving around Mount Panorama.
Bathurst is fast and furious, and when it bites, it bites hard. The run across the top if flat-out, mirrors-to-the-wall stuff, and it's unrealistic to think there would be 10 hours worth of V8 Supercars testing and somebody wouldn't eat concrete at some point.
That means stoppages, which means a further reduction of track time.
It also means that some people are going to leave the crucial pre-season test – just one of two official tests allowed for the year under the current V8 rules – with torn up racing cars and very few meaningful miles.
"It's so fast across the top, and I don't know if teams would want to risk their cars at the very test of the year," said V8 driver Tony D'Alberto when I quizzed him on the subject.
"Somebody would have something go wrong and end up in the wall, and then you're on the back foot from the very beginning of the season."
Too unique, too long, too one-dimensional
We've already covered the fact that Bathurst is spectacular, but that doesn't mean it would necessarily be great for testing parts and gathering data.
For starters, we're talking about a lap that's more than two minutes long. For testing, where cars are in and out of the garage constantly, that would just be annoying for the teams. So much lost time on out-laps and in-laps.
There is also the fact that Bathurst is like no other circuit in the world, let alone the V8 Supercars series. Testing there would be great for getting sorted for the Bathurst 1000, but not do much good for Clipsal.
But SMP, while not the most glamorous place in the world, is actually perfect for testing thanks to its mix of fast and flowing, and slow and technical.
"Sydney has a perfect mixture of corners; slow stuff, fast stuff, some flowing corners," added D'Alberto.
"You can try out out a lot of different set-ups and get an idea of how they might work at different circuits.
"But Bathurst, it's all flat-out."
Of course, there is quite a simple solution to all of these issues; keep the two-day SuperTest at SMP (on a different weekend to the 12 Hour obviously), and then hold a four or five-hour test session on the Saturday of the 12 Hour.
That way, V8s gets to showcase its product at Mount Panorama a bit more than usual, and the teams don't have to worry about losing meaningful testing time.
Perfect.