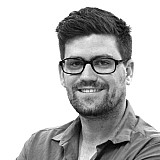 Garth Tander says that David Reynolds should have kept his post-Winton grievances out of the media, and sorted the issue privately. But is that really what's best for V8 Supercars as a sport? Andrew van Leeuwen investigates.
The biff is back in V8 Supercars racing at the moment. At Winton we not only had team-mates crashing into each left, right and centre, but a niggling on-track battle between Garth Tander and David Reynolds turn into a decent war of words post-race.
Reynolds was fuming after the race. He called Tander a "d**khead" on live TV, and then openly expanded on his thoughts of Tander's driving style to the media, including telling Motorsport.com that it was "desperate".
Tander calls for calm
Last night, the pair were on Fox's Inside Supercars panel show, and Tander hit back. Not at anything that happened on-track, but at how Reynolds so publicly handled the situation.
"I actually think it is just average. If you have got a problem have a real chat about it. Don't fire up on TV. We are professionals, we are paid to do a job, we are paid to do a job in the car, we are also paid to do a job out of the car. And part of that job out of that car is to be a professional and a role model.
"And I am no saint, I put my hand up to say that. But silly things like that, silly things in the media that get chatted about, that people pick up and it rolls on and on and on and turns into a four week story.
"We could have just had a chat about it after the race; Dave could have aired his grievances, we could have talked about it like grown men and then got on with it."
Let me start by saying this; I totally get where Garth Tander is coming from. His point of view is sensible, well-articulated, and certainly in the best interest of the drivers.
But is it keeping it behind closed doors really in the best interest of the sport?
Clean controversies good for V8s
This is exactly the sort of controversy a sport like V8 Supercars needs to be embroiled in. As it continues to scrap with the football codes for TV audiences and newspaper space, these kinds of clean 'controversies' – by which I mean not a damaging drug or alcohol scandal – are just what V8 Supercars needs.
Like I said, I understand Tander's viewpoint. And he's right; Reynolds turned it into a story that will last for week's by going public before he spoke to Tander.
But what's wrong with that?
Sure, it means a bit more media work for those guys, a few curly questions and a bit of back page beat-up – but it's so important for the sport to show it has a competitive edge, that the potential for a bit of push-and-shove is there. That's why people will tune it.
And it's how V8 Supercars will continue to get some coverage in the dailies, even during an oddly-timed five-week break.
I'm not a Pro Wrestling fan, I never have been, but every now and then I turn on the TV at home and there it is, a 'sport' that everyone knows is fake playing to a huge crowd and an even bigger TV audience. It's so popular, because it's built on rivalries. They're fake rivalries, but people don't care if it's real or not. They just tune in and enjoy it.
I'm not saying V8 Supercars should create fake blow-ups and beat-downs between the drivers. But when a genuine, organic rivalry like the one between Tander and Reynolds gifts itself upon the sport, the drivers should be encouraged to get in front of a TV camera ASAP.
That is ratings gold. Don't hide it away.