Subscribe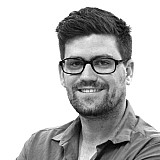 Marcos Ambrose will have to wait until after Perth for more V8 Supercar miles, after not running during DJR Team Penske's crucial test at Queensland Raceway.
The team used its pre-Sandown test day to work towards making improvements to its Ford Falcon FG X racer, using its newly-strengthened relationship with Prodrive Racing Australia.
But, with testing limited and tyre allocation still a major talking point, the team elected to leave Scott Pye in the car for the entire day, meaning Ambrose missed out on any running at all.
Ambrose stepped down as the team's lead driver following the Australian Grand Prix support race, with Pye taking over the seat in a bid to speed up development of the car and help Ambrose reacclimatise to V8 Supercars after his stint in NASCAR.
"The V8 Supercars test restrictions in terms of tyres and days did not play into our hand by allowing Marcos a run today," explained DJRTP's managing director Ryan Storey.
"We had aimed to do this late in the day but with a full programme and tyres way past their best it was simply not possible.
"Marcos played an important role today and will be able to give the car a run at our ride day in Perth on Monday week."
"Encouraging signs" leading into Perth
Storey added that, from an engineering perspective, the test was a success, and gives the team fresh hope for the upcoming round in Western Australia.
"The test has been a productive day. We had an extensive program to get through and managed to complete it late in the day.
"Scott was in the car for the full day and the DJR Team Penske crew analysed each run as the changes were made to the car. Adam De Borre was also on hand from Prodrive Racing Australia and provided some valuable insights.
"There are some encouraging signs and we are now looking forward to going racing in Perth."