Subscribe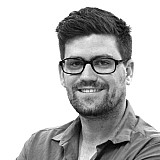 Marcos Ambrose says he's content to permanently step away from being a full-time V8 Supercars driver, and that he hasn't made a decision on whether or not he will race as a co-driver at Bathurst next year.
DJR Team Penske, the team that brought Ambrose back to Australia after a stint in NASCAR, today announced that it will run two cars next season, with Fabian Coulthard and Scott Pye to be the lead drivers.
The news confirms the heavily-rumoured theory that Ambrose's career as a full-time V8 Supercars driver has come to an end – something that he says he isn't sad about.
"I do not intend to drive full-time any more. I elected not to be a part of it," Ambrose told News Limited.
"It's absolutely my choice. There is no sadness. I've had a great run, a great career.
"I have my own personal reasons. I've got other priorities now.
"I'm really happy with what DJR-Penske have announced today. When I stood back, my first thoughts and concerns were always for the future of the team. I didn't want to get in the way."
What Ambrose didn't confirm, however, is whether or not he will sign back on with DJRTP as an endurance driver next season.
"I really enjoyed Bathurst," he added. "I had a great blast there. I'm very very satisfied.
"But we don't need to think about [co-driving] now. I'll work on my stuff later on."