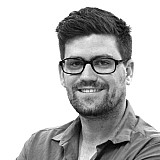 DJR Team Penske driver Marcos Ambrose says he is unlikely to race a V8 Supercar before the Sandown 500 – but that a proper comeback is still on his mind.
Ambrose, who recently returned to Australia after a 10-year stint in the US racing in NASCAR, signed on to race for the one-car Penske team this season. But he stepped down as lead driver after two race meetings, making way for Scott Pye to step in and use his more recent V8 Supercars experience to help the team sort its FG X Falcon.
Up until now, it hasn't been fully confirmed for how long Pye will continue to act as the team's lead driver, but Ambrose admitted to Motorsport.com that we didn't expect to be back in the driver's seat on a race weekend until the first of the endurance races at Sandown in September.
"It's going to be really tough to get back in before the enduros," he said.
"We know where we're at with the team, and we know what the series is with the rules, and we're trying to bash a square peg in a round hole.
"We need to slow everything right down, let the team work out where they want to be long-term, so I think that's the right move for now. I've had a busy 10 years, with a lot of races, so I need to catch my breath and help the team."
Ambrose settling in to 'evolving role'
Having now spent two race weekends outside the car, Ambrose says he is working on finding his place within the set-up, to make sure he is helping the team develop the FG X as quickly as possible.
"It certainly is an evolving role," he said.
"I have to find my place where I can contribute.
"One of two things was going to happen when I stepped out; either Scott was going jump in and drag the car to the front, and it would have been fairly obvious that I was a major part of the issue, or it doesn't run well, and we've got some work to do. We're on Plan B right now, we know we've got some work to do."
Eyes on return
While Ambrose won't be back before Sandown, he did confirm to Motorsport.com that he has far from closed the door on a proper comeback. The only issue, he says, is that the V8 Supercars regulations limit testing, making getting up to speed a difficult job.
"The bigger question for me, when I look at it, is how do I get back in? Because the reasons I got out haven't changed," said Ambrose.
"The series is stacked against guys coming back – it's okay, I'm not fighting it, I'm just being realistic about it. They're unique cars, and it's a quirky series with the rules and the tyre restrictions and the testing rules.
"It's really tough. I had no idea it was going to be this stacked against you. It was my fault for not looking at it properly.
"It's certainly mixed emotions. I'm a competitor, I want to be racing and I'd love to be out there. I've had a great career, I've done a lot of great races, but this isn't about me, it's about helping Team Penske DJR get where they want to go. So, I feel good about the choices we've made.
"Personally I would love to be in the car, but I think it's for the best what we're doing."
Ambrose is today taking part in a sponsor ride day at Barbagallo Raceway, where he will complete his first laps in a V8 Supercar since stepping down after the Australian Grand Prix support races.