Subscribe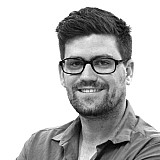 Two of the most iconic names in Australian motorsport, Johnson and Bowe, will race together again in Darwin after confirmation that a deal has been struck for Steve Johnson to race John Bowe's Mustang.
As first reported by Motorsport.com, Bowe has been working hard on a crowdfunding-style plan to raise funds to get Johnson, son of Bowe's former boss Dick Johnson, a drive in the Touring Car Masters in Darwin.
It has now been confirmed that the pair have raised the necessary cash, with Johnson set to drive Bowe's Mustang 'Sally', while Bowe himself will continue to race the Holden Torana he took to victory at the last round at Winton.
Unsurprisingly, the pair will run numbers 17 (Johnson) and 18 (Bowe) – just like Johnson Senior and Bowe ran back when they were team-mates in the 1980s and 1990s.
It will be Johnson's second drive of 'Sally', having filled in for Bowe at the Tasmanian round back in March.
"The time I spent with Dick [Johnson], Jill [Johnson] and Steve and that team were amongst the happiest and most successful of my career and they really are family to me," said Bowe.
"When I couldn't drive 'Sally' in Tasmania I knew Steve would be the only person I'd put in the car in my place.
"I've seen him grow from a young kid hanging around the DJR garages during the Ford Sierra days and turn into a tremendous driver with a great career of his own.
"I can't for the life of me still think why he's not in the main game. It's good for him to have a drive. Good for me too – I hope I can keep him in sight!
"I don't think any of us would have thought that nearly 30 years after we first raced together, the Johnson and Bowe families would still be battling it out – but that's what is going to happen."