The conclusion of an interview, and race, with Dion von Moltke.
Where did we leave off?
Oh right. I was having my butt kicked by a professional race car driver on iRacing.
It was getting time to do a 10-minute qualifying session before a quick 5-lap shootout race.
When talking to professional drivers, it's fun to find out what their goals are. As a massive fan myself, I know there are a lot of great races I want to experience in person.
#44 Flying Lizard Motorsports Porsche 911 GT3 Cup: Seth Neiman, Dion von Moltke, Brett Sandberg
"Further down the road, being a factory driver is at the top of everybody's list. The guys that are hired by them are the best of the best," said von Moltke.
"Of course looking to be able to get to Le man, race Le Mans and win Le Mans. It's probably number one to get to a factory seat, and then one day make it to le mans. That would be a dream come true."
The conversation turned to iRacing, and its value to race car drivers. Moltke says he uses the simulator a lot, as it helps him remember the little things that make you fast at many tracks.
"I am a big iRacing user. What I use it for most is refreshing the eye on the track. The tracks on iRacing are almost spot on," he said.
"I am using the same visual queues that I used at the Petit Le Mans. It's a lot of fun, I love going out there and racing against the fans, the people who watch us on TV and give us so much support."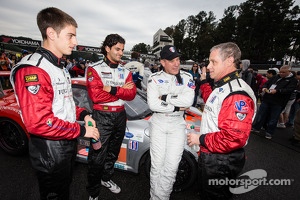 Dion von Moltke, Brett Sandberg, Charlie Putman and Seth Neiman
With the merger of American sports car racing complete, and the fine tuning of details for the inaugural TUDOR United SportsCar Championship underway, we talked about what is good about the deal, and what can still be improved on.
Von Moltke said that how to improve the product is a tough subject to talk about, but elaborated on what needs to be done in sports car racing, and racing as a whole.
"Right now in sports car racing we do marketing backwards," he said. "We rely on the tracks to do the marketing. I think the series should do the marketing along with the track."
In addition to marketing, von Moltke said he wishes media would cover the sport differently, and delve deeper into the stories not only during races but behind the scenes as well.
"There is a lot of good stories to be told out there that aren't being told, or being told in a way that isn't very interesting. There are so many stories that aren't being told that are really interesting. Any time I talk to the fans, they have these great questions. There is so much more to racing and some great stories that aren't being told. We have to make sure that we are accessible on all TVs. We are stuck in our mold. It's worked out so far, but I disagree with that theory. I disagree, I think we can do things better," he said.
"I think they should interview the race strategist. They are the ones that really know what is going on in a race. The drivers, we read from a script…it can get boring. Real fans don't want to hear the read from the script answer, they want the real thing. I think the secretive aspect of the sport is so big, we are afraid of saying the wrong thing."
GTC podium: class winners Cooper MacNeil, Jeroen Bleekemolen, Dion von Moltke
While explaining what he think can be improved with the sport, von Moltke crashed his prototype on the final lap of our race. I was excited to know that I may be able to beat him being slower, but mistake free. Unfortunately, even with bad damage, he was able to limp the car home with a 15 second gap.
"This is pretty big, winning in iRacing isn't an easy thing. I am going to go my champagne bottle and do the Kimi Raikkonen thing and drink half of it and spray it around a bit," he gloated. "This win is pretty special."
One thing I find intriguing after talking to race car drivers is their smarts. Von Moltke demonstrated through a one-hour interview and iRacing session that he is passionate about winning, about helping a fellow driver, and is very knowledgeable not only about the tracks, the cars, and how to go fast, but the business behind racing.