Get alerts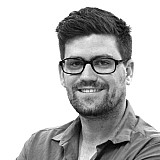 A tarmac rally crash in Australia has led to a bunfight between the two major motorsport governing bodies in Australia.
Local TV host Grant Denyer was involved in a high-speed crash while taking part in an Australian Tarmac Rally Championship event in Victoria last Sunday, sustaining a broken coccyx and a broken finger, while co-driver Dale Moscatt has a broken knee and a suspected fractured vertebra.
The ATRC is run under Australian Auto-Sport Alliance governance, not the Confederation of Australian Motor Sport, which is the peak governing body for motorsport in the country.
Today CAMS sparked a bunfight between itself and the ATRC when it released a statement not only distancing itself from the crash, but 'expressing concerns' over the safety of the event and calling for a 'thorough investigation by police'.
"The Lake Mountain Sprint Rally is not a CAMS sanctioned event," read the statement from CAMS.
"The Australian Tarmac Rally Championship is not an authorised series or championship of CAMS.
"CAMS has previously expressed concerns about this and similar events with regard to the safety standards applicable to such high risk activities on public roads.
"CAMS remains concerned with high risk motor sport events that are not permitted by CAMS.
"Victoria Police have apparently indicated that they will not investigate this matter as it was under the mistaken impression that this was a CAMS-sanctioned event. Given that this is not a CAMS permitted event, we would welcome a thorough investigation by the police of the incident given that CAMS will not be given access to important accident data and information by the event organiser."
The statement sparked an immediate response from the ATRC, series director Peter Washington taking to the official Facebook page: "As the Director of the Australian Tarmac Rally Championship I am furious at the statement released by CAMS regarding the Lake Mountain Sprint.
"Having previously been sanctioned by CAMS for our events we have now been sanctioned by the Australian Auto-Sport Alliance for the last nine years, legally recognised by the state government, and are subject to their exhaustive risk management protocols.
"For CAMS to show concerns of high risk activities on public roads is hypocritical in itself as they also sanction tarmac rallies in Victoria as well as other states.
"To call into question the safety of Mountain Motorsport events is defamatory and I will be referring this to our legal representatives.
"I believe our safety standards are second to none, in fact far superior to similar events sanctioned by CAMS and will let our competitors comments uphold my statement."
The AASA then released its own statement responding to CAMS release.
"The AASA is holding its usual investigations into major incidents to determine causative factors," it read.
"The AASA stands by its commitment to upholding a high level of safety standards, and ensuring appropriate protocols are followed in the event of an incident.
"The AASA acknowledges event organisers Mountain Motorsports and Race Solutions were incredibly effective in their response times and dealing with this and other incidents at the event.
"This event has been run in this format and under the sanction of the AASA for several years with full permissions and approval of civil authorities. AASA passed VicRoads accreditation process and has Victorian Government Gazettal to close roads for event purposes.
"AASA, as always, works with all authorities to deliver safe events."