Get alerts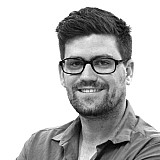 Australian Rally Championship front-runner Harry Bates says he's looking to get a part-time European programme in place as soon as possible, as he looks to expand his career beyond local shores.
Bates, son of four-time ARC champion Neal Bates, has enjoyed a rapid start to his rallying career. He went within eight points of winning a maiden ARC title himself last year, and currently has a three-point lead over Molly Taylor in the ARC standings with two rounds to go.
His title chances are set to be given a boost with a switch from an ageing S2000-spec Neal Bates Motorsport Toyota Corolla to a brand new AP4-spec Yaris before the upcoming round in South Australia.
The 22-year-old has also started to look for opportunities in Europe, with plans in the works to build on his local success and get a part-time European programme in place in the near future.
"I'd love to be competing in Europe on a part-time basis as soon as I can," said the 22-year-old.
"I have been really happy with what I have been able to achieve here and I want to continue that.
"Certainly Europe is on my radar, but it is all about securing the funding and getting over there and giving myself the best opportunity to do well.
"The reality is to be known to them and be knocking on doors on Europe you do have to be over there competing. Over the next few years I need to get myself over there."
While he has Europe on his mind and short-term plans to compete overseas, Bates says he's in no rush to make a full-time move away from the ARC. Between the new car coming online and a burning desire to win an ARC title, he's happy to do double duties.
"The ARC has been goal of mine certainly since the start of the year and before that. It is something I want to achieve because there are a lot of people here who put in a lot of effort into us and it would be a nice way of paying them back," he added.
"If it can lead to other things great but first and foremost I want to work on that title and worry about other things afterwards.
"I will be in Australia for a few more years to come with the new car. I guess I can do both championships certainly for a while. I will do that for a as long as I could.
"Rallying is a sport where age isn't quite as critical as what it is in circuit racing. A lot of rally drivers come into the World Championship later than say in F1 or Supercars.
"I'm not in an huge rush and I don't feel like the is running out at all. I want to get as much experience as I can here before I go over there."
Bates recently made his first rallying excursion overseas, jetting off to South America to test a Team Toyota Paraguay Etios R5.