Robb Pritchard, Offroad correspondent
The start was delayed for a while and it was great to sit among the Drivers in the camp, listening to them thank each other for help on the last stage or for lending spare parts. Bog Brotherhood. The smiles and banter only lasted until the start marshal shouted, "Two minutes," and then, for the front runners at least, it was all seriousness again.
A massive roar from behind signaled that Jim Marsden had started and thanks to having to throw myself out of his way found a quick way to the bottom of the gully. There was a bit of shuffling and then just foot to the floor and let the transmission and tyres do the rest.
Peter Whitman out of a stage at last. The smile lasted 1km
It was nice to see Peter Whitman out in the forest at last and after a great run in the dark last night started in 6th place. The fun only lasted a kilometre though when he rolled the big buggy over a tree stump. I got there as they started their D&G H3 Buggy in a cloud of oil smoke. "Ah! You missed it," Adrian Turner laughed.
The first cars managed to power straight up the 1 in 1 slope between the trees but for others it was a hard scramble for the co-drivers to drag the winch rope up to the top and on for the next 34km...
Back at camp I caught up with some of the front runners who'd already made it back. Walter Schuhmacher's Jeep was absolutely plastered in clumps of mud. "We were losing traction even with the portal axles," co-driver Bertram Pansy said. "But we are heartbroken because we lost the front grill today... so we are going home now!" he smiled. Walter added, "We also cut the winch wires with a tree and broke a power steering line so it wasn't such an easy day."
... we drove on their car and used it as traction!
Unofficial stage winner Boros Csaba wasn't very talkative and chewed nervously on his toothpick hoping that I wouldn't keep trying to ask him questions. I did find out that his Jeep is not really a Jeep at all but a 1.9 VW Golf powered, 1500kg buggy sitting on a refangled TG Jeep chassis. "One day Boros had a beautiful dream and locked himself in his garage for two days. When he came out again he was driving this," his friend translated.
Parked next to him was fellow Hungarian Szylard Magyar in his little G-Wagon look a-like. "We had the same time as Jim Marsden, so we had a good day," he said with a smile. "but it was very muddy today. We winched through one place with so much mud that it pulled some of the body work off. And at another place there was so many people all stuck winching with their ropes going everywhere that we decided to go around the side... and slipped into someone... but we drove on their car and used it as traction!"
With the right side of his T-shirt covered in mud 'Big Pete' Whitman came passed. "After rolling in the first kilometre we took it easy today," he said. "But my backside is too fat to bang around in the seat all day so my hip is killing me!"
"Can I write that?" I asked.
"It's nothing I can deny!" he laughed.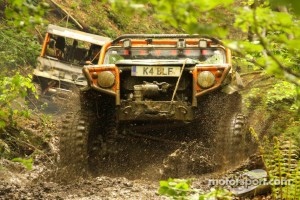 Karl Frost and David Needham started well...
With slightly more rueful smiles were Karl Frost and David Needham. "We started 50th today and zipped passed loads at the start," Needham said. "In England we're good at queuing politely but at one gully we saw a line of cars and just decided to blat passed them all... but then rolled it... which is a bit of a buggy, really. Now the isolator switch is bust and is playing some kind of proper havoc with the ECU... It doesn't look so good unfortunately."
In one of the most outlandish vehicles is Russian Alexey Golubev and his Estonian co-driver Imre Poom. "The car is all handmade, even the axles and portals," Poom explained. "And we are having a great time. The Croatian countryside is amazing but the car is made for the Russian bogs and we are not used to driving up and down so many big hills. But the track is kind of level, there are no big holes or rocks so it kind of flows and you can go quite fast. I really love it!"
Croatian countryside is amazing but the car is made for the Russian bogs,
At the Gigglepin tent I was just in time for liver pate and ketchup sandwiches but again Marsden had had a tough day. "We were first on the road and that is a real disadvantage with a rather vague roadbook but we had a great time playing with a Croatian team in a Jeep, parallel winching with them and rubbing tyres. They are really great guys. But then at the end we found a great big tree blocking the way and we spend so long trying to clear it that Boris Csaba had caught up with us. Again! I wasn't too impressed, but I suppose that's racing..."
So, the battle at the top is heating up... although no one knows quite how hot it is. With another 4 days to go we are at the half way mark now and tomorrow is the circuit race. It sounds a lot easier than it is as the 4x4s are not built for speed... and the drivers will be going all out to pass on the short over-taking sections. It will be 10 laps of constant action!