Heartland Park Topeka
SPENCER MASSEY DRIVES FRAM DRAGSTER TO VICTORY AT NHRA SUMMER NATIONALS IN TOPEKA
TOPEKA, Kan. – In his seventh race driving for Don Schumacher Racing, Spencer Massey directed his FRAM Top Fuel dragster to victory here Sunday in the NHRA Summer Nationals at Heartland Park Topeka.
Overcoming 124-degree track temperatures, Massey leveled Bob Vandergriff, Jr. in the finals with a solid 3.914-second pass at 312.78 mph.
"This is just awesome," said the Fort Worth native and resident. "It's really unbelievable that we're here holding a trophy. But, I'm certainly not surprised about the results. The FRAM car has been making some very impressive runs the last few races so I felt it was only a matter of time before a win came our way."
After competing in one NHRA national event last year, Massey came into the 2011 season a very hungry driver as a new member of DSR.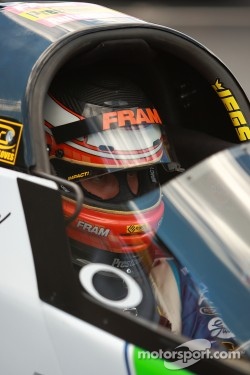 Spencer Massey waits to pull through the tower
"I knew if I stayed after it, it would eventually pay off," he said. "Now, here I am a member of the best team on the circuit – Don Schumacher Racing. I couldn't ask for anything more than that."
One would have to go back to the 2009 fall Las Vegas race to find Massey's last victory. He now has three career wins.
"Of course, I'm hoping to keep adding to that total as we move forward," he offered. "My FRAM team is just terrific and I have two great leaders in Phil Shuler and Todd Okuhara (co-crew chiefs)."
On the way to the finals, Massey disposed of Luigi Novelli, Terry McMillen and his DSR teammate, Tony Schumacher. The semifinal round race with Schumacher was a rematch of the semifinals at Atlanta Dragway last weekend, which Schumacher won.
"We expected a tough race out of Tony and the U.S. Army team," said Massey. "I guess they had some issues which helped us out a little bit. But, we also did what we had to do and went from A to B."
With his win, Massey moved up to fourth-place in the Top Fuel standings and trails leader, Del Worsham, by 87 points. He will now take a weekend off before heading to Old Bridge Township Raceway Park in Englishtown, N.J. for the NHRA SuperNationals, June 2-5.
"Obviously, we will be looking to keep things rolling when we get to New Jersey," said Massey.
-source: dsr