Old Bridge Township Raceway Park
SPENCER MASSEY WANTS TO CONTINUE WINNING WAYS THIS WEEKEND IN NHRA SUPERNATIONALS
ENGLISHTOWN, N.J. – Coming off his first win of the 2011 NHRA Full Throttle Drag Racing Series season, and first since 2009, Spencer Massey will drive the FRAM/Prestone Top Fuel dragster onto the historic strip at Old Bridge Township Raceway Park here looking to extend his winning streak with a victory this weekend in the 42nd annual NHRA SuperNationals.
The 28-year-old Don Schumacher Racing driver, who won two national events and the rookie-of-the-year award in 2009, moved to within eight points of second place in the Top Fuel championship standings after his win two weeks ago in Topeka.
Massey trails Del Worsham, DSR teammate Tony Schumacher and reigning champion Larry Dixon (respectively) and is just ahead of DSR teammate Antron Brown in the tightly packed Top Fuel category where 10 points separate second through fifth.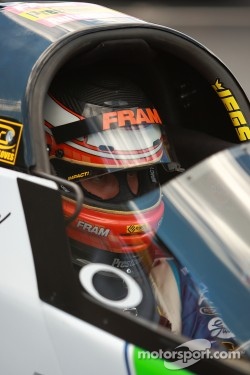 Spencer Massey waits to pull through the tower
"Coming off a great weekend like Topeka, we'd love to keep the momentum going," said the Fort Worth native and resident. "We want to keep going rounds and get ourselves in the best possible position when the Countdown to 1 (playoffs) begins after Indy."
The Fram/Prestone dragster has been going rounds, 15 consecutive without smoking its tires, despite some warm weather in the previous two races.
"We went four-straight rounds in qualifying in Atlanta, then three on race day (when he lost a close contest to Schumacher)," he said. "We went all four in qualifying for Topeka and then four more that Sunday.
"You almost want to have one round end with tire smoke to get it out of the way, but Phil Shuler and Todd Okuhara (co-crew chiefs) are doing a great job tuning this car and getting us from A to B without drama and with a lot of speed."
The FRAM/Prestone dragster was one of the few to accomplish this in Topeka, where hot and sticky weather conditions made tuning extremely challenging.
"We're hoping for better conditions here," Massey said. "But regardless, I know we'll be ready and I am excited about racing here. The track is always good, the fans are great and the track owner really cares about the sport."
-source: dsr