Old Bridge Township Raceway Park
Spencer Massey Wins NHRA Supernationals For Second Consecutive Victory

Spencer Massey drove the FRAM/Prestone Top Fuel dragster into the winner's circle today here in the 42nd annual NHRA SuperNationals at historic Old Bridge Township Raceway Park, his second consecutive victory during the 2011 NHRA Full Throttle Drag Racing Series season.
The win, his second of the season and fourth of his career, which vaulted Massey into second place in the Top Fuel standings, came on a hole-shot run in the finals against Del Worsham, the current points leader and this weekend's number-one qualifier.
"We knew we had to bring our A game," said the 28-year-old Fort Worth native and resident. "It's awesome to beat the Alan Johnson/Del Worsham car, that's what everyone wants to do out here."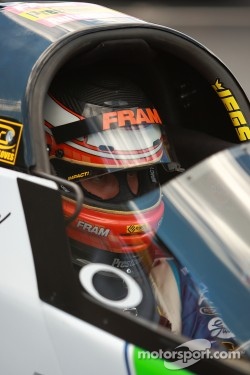 Spencer Massey waits to pull through the tower
Using a .065 reaction time, Massey launched first off the starting line by .015-seconds in the finals allowing his 3.821-second, 319.07-mile-per-hour lap to overcome Worsham's 3.815-at-322.19 charge.
"I knew I had to cut a quick light, because I knew Del would," explained the Don Schumacher Racing Driver. "I felt slow because the (starting-line) light came on quick; I was only hoping Del was slower."
Priding himself on his reaction times, Massey left the starting line between .061 and .065 seconds in each of today's four winning rounds, always ahead of his opponent.
"I was actually disappointed, because I shoot for .040s and .050s," he said. "It takes a lot of concentration, dedication and focus – and help from my great FRAM/Prestone crew!
"The key to today's success, and all of our recent successes, is getting down the track, going from A to B consistently. Phil and Todd (Shuler and Okuhara, co-crew chiefs) are doing an incredible job tuning this car to do just that.
"If it wasn't for them, I wouldn't be holding another pewter Wally," he added after the post-race ceremonies.
Massey began the day by defeating Bob Vandergriff in a repeat of the Topeka final-round confrontation, then ousted Morgan Lucas in round two and earned a trip to the finals with a win over Brandon Bernstein in the semifinals; all solid runs without any drama and elapsed times between 3.807 and 3.825 seconds.
The Fram/Prestone dragster has made 23 consecutive runs, going back to the first qualifying round at the Atlanta race, without smoking the tires. This accomplishment, coupled with today's performance, earned the team the Full Throttle Hard-Working Crew Award.
"Obviously, this is recognition of how great the FRAM/Prestone crew is – something I already know," he added. "I can't say enough about driving for Don Schumacher, Don Schumacher Racing, FRAM, Prestone and everyone else related to this team; it's a dream come true."
The hottest dragster in the 2011 NHRA Full Throttle Drag Racing series heads to Bristol (Tenn.) Dragway for the 11th annual Ford NHRA Thunder Valley Nationals on June 17-19. Massey will enter the weekend trailing Worsham by 64 points, with Larry Dixon and DSR teammates Tony Schumacher and Antron Brown next in the Top Fuel Standings.
-source: dsr