LAS VEGAS (Oct. 28) - An ailing Erica Enders put up a game fight Sunday, but the KLR Group driver fell in the second round of the Big O Tires NHRA Nationals at The Strip at Las Vegas Motor Speedway.
Enders has been battling flu-like symptoms all weekend, and Sunday, the 29-year-old driver lost her voice. But Enders would not blame her loss to Vincent Nobile on her illness.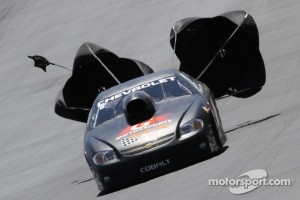 Erica Enders
"No excuses," Enders said. "But I will tell you it was difficult. Normally, when you're sick, you can lay around at home and get better.
You've got a fever, and you've got the shakes, you're just sick. You've got the luxury of getting well. We don't have sick days in drag racing. You've got to perform perfectly, and it's hard to do when you're head's in a fog from the flu.
"Having said that, I don't think it affected me. It is what it is, and you have to man up and plow through whatever you're dealt."
Enders beat Kurt Johnson in the first round after a solid .029-second reaction time, and she nearly matched that against Nobile with a .037 light.
But Nobile was quicker down the track, going 6.649 seconds at 207.46 mph to beat Enders' pass of 6.655 seconds at 207.72 mph. The margin of victory was just a few feet.
"We lost lane choice, and that's pretty crucial here," Enders said. "This is usually a one-lane race track, though it's usually the left lane you want. It was just one of those things.
It wasn't our day. We didn't have the fastest race car here, but we certainly had a consistent one. We were the only one to get down that lane second round.
"I'm proud of my guys. They did a great job with what we were dealt. We're going to pick up and go to Pomona."
Though Enders was mathematically eliminated from the Pro Stock championship at this race, she can still finish second in the standings, which would be a career best. She's 71 points out of second with one race remaining.
"Second place is still within reach," Enders said. "We lost our chance at the championship this weekend. I'm real bummed about that. It would've been a longshot, but we still mathematically could've done it, if that was what the plan was.
I'm disappointed it's not us, but I'm hopeful it'll be Allen (Johnson). I'm proud he's doing such a good job. I'm going to be nipping at his heels, and hopefully we can finish second."
Enders got to the second round after a pass of 6.640 seconds at 207.94 mph to beat Johnson and his run of 6.732 seconds at 206.32 mph.
"We left a little bit on the table, but not a whole lot," Enders said. "It was a good run. Kurt, you never know what you're going to get from him.
He's really good at what he does. I went up there with the mindset that I had to do everything I could to beat him. Fortunately, we got around him.
"I'm really disappointed we lost to Vincent. As a team, collectively, we're better than that. All I had to be was my normal .020 to win, and I left that on the table.
I'm disappointed because he's right behind me in points. I don't want to finish behind him, so we've got to work even harder next week."
Source: KLR Group Racing