U.S. Army Racing press release
BROWN FIFTH, SCHUMACHER 12th FOR RACE DAY WILL FACE EACH OTHER IN FIRST ROUND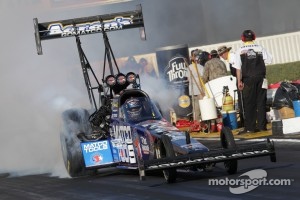 Antron Brown doing a burnout in his Matco Tools Top Fuel Dragster
LAS VEGAS, Nev., October 29, 2011 - The U.S. Army NHRA Top Fuel Racing team, with drivers Antron Brown and Tony "The Sarge" Schumacher, will start fifth and 12th, respectively, in Sunday's Big O Tires NHRA Nationals here at The Strip at Las Vegas Motor Speedway.
As a result of their qualifying efforts, Brown and Schumacher will meet in a rare first round match up beginning at 11 a.m. PT. The U.S. Army Racing/Don Schumacher Racing teammates have faced each other nine times in final eliminations this season with Brown winning seven of those races.
"I hate it that we have to race Tony in the opening round, but that's the way it is," said Brown, the current Top Fuel points leader. "We're going to give it our best shot and I'm sure Tony and his team will do the same thing. I'm confident it will be a hotly contested race.
"To be sure, we always point to race day as to when we can do the most damage. We're going to come out here tomorrow looking to go rounds and to contend for another win."
The Indianapolis resident has six victories to his credit this year with one of those coming in the NHRA's Countdown to the Championship at Charlotte last month.
"Getting to finals and winning races in the Countdown is critical," said Brown. "We've managed to do both (he also advanced to the finals in Phoenix two weeks ago). But, we can't settle for what we've accomplished."
Brown, who is seeking his first world championship, knows his Matco Tools/U.S. Army team has to continue to show poise over the last two races of the year.
"That will be the key," he said. "You certainly have to stay within yourself and not get out of control. Maintaining focus will be important."
In collecting the 12th starting spot, Schumacher posted his worst qualifying performance thus far in 2011. He had never qualified lower than eighth (at Bristol, Tenn. in June).
"We've had some issues this weekend," admitted the seven-time world champion. "But, I'm sure the guys will figure it all out and we'll be set for tomorrow.
"It's unfortunate we have to race Antron in the first round, but that's just the way it ended up. If we are to stay in the world title hunt, facing the leader early in the day is probably the way to go. Of course, we have to go out and beat him to make it work."
Schumacher came into the Las Vegas event holding fifth-place in the standings, 91 points removed from Brown. Hence, taking Brown out and then going on to capture his first victory of the season would be quite helpful.
"You never know what can happen," he offered. "We're going to keep battling and we'll see how it all shakes out after we finish it up at Pomona (Calif.) in two weeks."