R2B2 Racing press release
For second straight race, Troxel a formidable foe in two different classes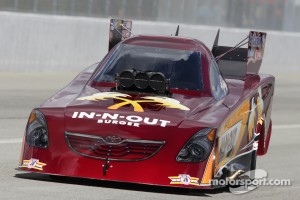 Melanie Troxel aboard her In-n-Out Burger Toyota Camry
CHARLOTTE (Sept. 17) – It's the kind of results a girl could get used to.
For the second consecutive race, Melanie Troxel has put the ProCare Rx Toyota Funny Car into the top three of qualifying and walked away from the track on Saturday night with a Get Screened America Pro Mod round victory behind the wheel of the In-N-Out Burger turbo Corvette in her pocket.
"It's a nice change to know we have two really good race cars when you go to sleep on Saturday night," said Troxel, who competes in both Funny Car and Pro Mod. "We've just got to pick away at some details, but I think we'll be good for Sunday."
Troxel qualified the Funny Car No. 3 in the field with a best lap of 4.042 seconds at 291.76 mph. She draws Jim Head in the first round on Sunday. His best pass was a 4.132 at 301.54 mph.
"We made some great runs in the Funny Car, but we've been plagued with some failures," Troxel said. "Hopefully we'll get that stuff out of the way. If we would have been able to make one of these 4.04 second passes on all eight cylinders to the finish line, that number would have been even better."
Last time out at the U.S. Nationals at Indianapolis, Troxel put her Funny Car into the No. 2 slot in the qualifying field and drove her Pro Mod machine through to the semifinals.
At zMax Dragway this weekend, Troxel was the No. 1 qualifier in Pro Mod running a 5.815 second lap at 256.55 mph.
"As usual the Pro Mod car is solid," Troxel said. "We had a few hiccups where it didn't go down the track but (tuner) Stave Petty always does a great job of putting the In-N-Out Burger Pro Mod back where it needs to be when it's time to step up our game."
Troxel got one step closer to defending her Pro Mod title in Charlotte. In the first round of Pro Mod eliminations, she laid down the second best ET of the round against Kenny Lang, crossing the stripe in 5.835 seconds at 253.71 mph. Lang limped to a 7.140 at 135.16 mph.
"So much has changed with our Pro Mod team since last year, I feel like I'm not falling back on a sense of confidence," Troxel said. "Repeating is not going to be easy. A lot of cars stepped up in eliminations and put up big numbers."