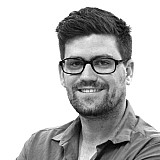 Australian drag racer Richie Crampton says his success in the NHRA is hard to fathom, after winning his fifth event of the season in Texas yesterday.
Crampton breezed past the likes of Doug Kalitta and Brittany Force on his way to victory at the Texas Motorplex, and broke a track record by running a 3.705s in the first round.
With the win, Crampton has now won five events for the season, and has a perfect career record of seven wins from seven final rounds, despite this being just his second year as a professional racer.
"It's hard to even fathom getting to seven final rounds in the short time I've been a professional driver let alone winning them all," he said.
"I'm just so fortunate that when you give my team so many shots at a race track on a given day that they get it figured out. I've reached a point where I've got a huge amount of confidence going into final rounds now.
"You know, when everything functions correctly, like in the first round when it ran 3.705, for the record, it's a breeze to drive these things. But it fought us from the second round onward.
"We had some clutch controller issues so that's where my Lucas Oil team really earned their paycheck today. Man, we fought that racecar all day long and things went our way so these are the kind of race days that are really rewarding."
Winning in Texas also means that Crampton has a new souvenir to bring back to Australia next time he visits – the traditional winner's cowboy hat.
"I've never even tried on a cowboy hat before but I sure like this one," he said.
"I might just have to wear it the next time I go back to Oz. That'll show 'em something.
"It's really kind of special for [track owner] Billy Meyer to give us these hats, and this year with it being the 30th annual race, we got belt buckles as well. Plus, I'll have a brick with my name on it in the winner's circle. There's lots to be excited about."