Don Schumacher Racing press release
SPENCER MASSEY SEEKS CHAMPIONSHIP AT AUTOMOBILE CLUB OF SOUTHERN CALIFORNIA NHRA FINALS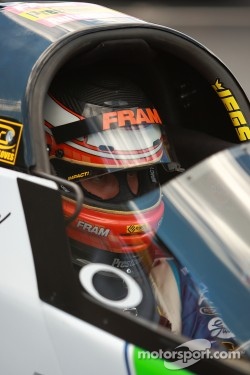 Spencer Massey waits to pull through the tower
POMONA, Calif., November 7, 2011 – A year ago, Spencer Massey, the 2009 NHRA rookie of the year, was looking for a ride having sat out the 2010 season. When the 47th-annual Automobile Club of Southern California NHRA Finals begin Thursday, the driver of the FRAM/Prestone Top Fuel dragster will be atop the standings for the 2011 NHRA Full Throttle championship with the title within his grasp.
"I've been saying all year long – don't pinch me, I don't want to wake up," said Massey, who has won four races, including one in the NHRA Full Throttle Countdown to the Championship. "When Don Schumacher offered me this ride after last season, I was just thrilled to be getting back into a Top Fuel dragster. I knew I was driving for a great organization and a great team, one which had challenged for the championship last year, but I just was happy to back in the game.
"My first hope was to drive well, win some races and make Don and the people from FRAM/Prestone who believed in me proud. Fighting for a championship was a dream – and now it is a distinct possibility, again thanks to this great organization and great team led by Phil and Todd (Shuler and Okuhara, co-crew chiefs)."
The 29-year-old Fort Worth native heads into this weekend's event two points ahead of Del Worsham and 14 in front of Don Schumacher Racing teammate Antron Brown. With the exception of not qualifying in Phoenix, he has dominated the other four Countdown races with one win and three runner-up finishes.
The Phoenix DNQ dropped him from first to third in the standings, but the runner-up finish to Worsham in Las Vegas returned him to the top.
"The testing in Vegas obviously paid off," explained Massey whose team left Phoenix before race day and spent the following Monday testing on The Strip at Las Vegas Motor Speedway to prepare for that race and this week's. "The FRAM/Prestone hot rod went down the race track all eight runs in Vegas without a hitch.
"We were a bit gun shy, didn't push it too much, but it all worked out great. We realized if you push too hard, you might beat yourself and we do not want to make that kind of mistake, especially this late in the season." The approach for Pomona will be the same as it has been throughout the season.
"Despite being this close to the end, with so much on the line, I won't change how I approach the race or how I drive," he explained. "I try to drive the same, whether I'm qualifying or racing. I cannot allow the stakes to affect my driving.
"Whatever butterflies are in my stomach or thoughts are in my head, it all goes away when the car starts.
"I'll just get in the car, do what I've done all year and have fun."