Don Schumacher Racing press release
SPENCER MASSEY TAKES FOURTH STARTING POSITION FOR SUNDAY'S AUTO CLUB OF SOUTHERN CALIFORNIA NHRA FINALS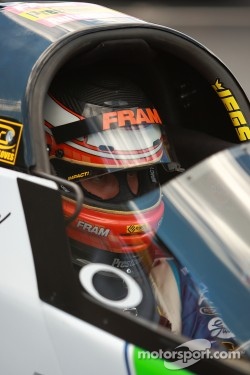 Spencer Massey waits to pull through the tower
POMONA, Calif., November 12, 2011 – Handling the controls of his FRAM/Prestone Top Fuel dragster, Spencer Massey banked the fourth starting spot here Saturday for tomorrow's 47th annual Auto Club of Southern California NHRA Finals at Auto Club Raceway.
Massey, who will start race day holding second-place in the Countdown to the Championship standings and eight points in back of Del Worsham, has a first-round meeting with 13th-place qualifier, Cory McClenathan, beginning at 11 a.m. PT.
"We're going into tomorrow the same way we've approached every race this year," said Massey, a Fort Worth native. "We're trying to win this race, the one in front of us, round by round, and without worrying about the championship."
Interestingly enough, Massey's first round race will feature the former driver of the FRAM/Prestone dragster versus the present driver.
"I have all the respect in the world for Cory," said Massey who posted a 3.804-second pass at 325.06 miles per hour to gain his starting position. "He's a great driver and we will have to be at our best to beat him and advance."
The 29-year-old Don Schumacher Racing driver is enjoying being in the middle of his first world championship hunt. To that end, he welcomes the pressure that comes along with such a heated battle.
"I'm having a blast and enjoying life," he said. "I'm going to do the same things I've done every Sunday. I'm not going to change anything.
"Regardless of how it all turns out tomorrow, we have had a terrific year (four wins in eight final-round appearances). Phil (Shuler) and Todd (Okuhara, his co-crew chiefs) have done a great job throughout the season to put us in this position. Now, it's time to try and close the deal.
"It really was a dream come true when I first stepped into this seat at Don Schumacher Racing. On Sunday, we'll be hoping to put the best possible ending on this dream."