Route 66 Raceway
Lucas quite happy to be driving, not tuning, his GEICO rail
Morgan Lucas, driver of the GEICO/Lucas Oil dragster, does not want to switch places with crew chief Dickie Venables on Sunday.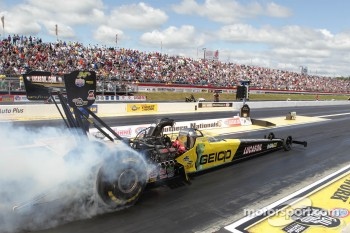 Morgan Lucas
With two night qualifying sessions at this weekend's O'Reilly Auto Parts NHRA Route 66 Nationals, Venables doesn't have a lot of data to work off of to prepare the GEICO rail for the early afternoon start of eliminations.
"I remember last week, I was enjoying the weather," Lucas said. "Then it started to get hot and I started thinking about this race – it's going to be hot, it's going to be slick, and we're not going to have any information when we go into eliminations.
"I do not envy the crew chief's job right now at all."
Lucas qualified No. 11 in the Top Fuel field with a best lap of 3.934 seconds at 296.11 mph. He will face No. 6 qualifier, Brandon Bernstein, whose best lap was a 3.884 at 313.15 mph.
"It's going to be anybody's game," Lucas said. "There's going to be a lot of pedaling matches out there. If we get in one of them – God forbid – we'll do a good job to get around Brandon and do what we've got to do."
Worrying about the tune-up is going to be the furthest thing from Lucas' mind on Sunday because he said he's got work of his own to get done.
"It's a tricky track," Lucas said. "And I've been struggling enough with my driving lately that I'm not worried about what the car is going to do.
"Dickie has done a great job, and I need to worry about what I'm doing, because I haven't been exactly doing 100 percent. We won this race in Top Alcohol Dragster in 2003 and we'd love to go out there and get a win again."
By: lucas oil racing