John Force Racing press release
Force's gamble still could pay big dividends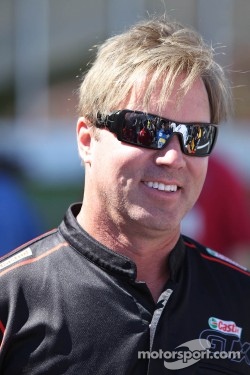 Mike Neff
LAS VEGAS, Nevada – John Force normally is not a betting man, but the gamble he took last January when he gave Mike Neff the "keys" to his Castrol GTX Ford, the Funny Car in which he won the 2010 Full Throttle championship, could pay off in spades beginning with this week's 11th annual Big O Tires Nationals.
Although Neff starts the week in third place in the Funny Car driver standings, he is poised not only to win an 18th NHRA championship in 22 years for John Force Racing, Inc., but to become the first ever to win a series champions as crew chief one year and driver the next.
Moreover, in this age of specialization, he could become the first in 37 years to win a Funny Car title in the combined role of driver/crew chief. The last to do so was the late Shirl Greer back in 1974, the first year that championships were determined on an accumulative points basis.
In order to make history, though, the 45-year-old with the laid-back demeanor may have to duplicate Force's dramatic drive to last year's title which, coincidentally, began with a victory at The Strip at Las Vegas Motor Speedway.
Neff brings last year's race-winning Mustang back to LVMS for this week's penultimate event in circumstances not unlike those he faced a year ago when he was handling just one job – making all the mechanical decisions for Force.
In 2010, the deficit to Matt Hagan at Las Vegas was 64 points. Force made that up in two races, winning both. This year, the deficit is smaller but, instead of trailing just one driver, Neff will have to move around two – Jack Beckman, who leads by 22 points, and Hagan, who is 17 points ahead.
Nevertheless, he still believes he has the car and the team to go the distance – even after teammate Robert Hight took him out in the first round two weeks ago at Phoenix, Ariz.
The truth is, Neff is just happy to be in a position where he has even a chance to win the championship considering the fact that, nine months ago, he was busy putting together a crew chief's strategy for Force's title defense.
That all changed with Ashley Force Hood's January announcement that she was taking a year off to start a family.
Given a reprieve on a driving career he believed was over when economics compelled Force to park on of four Ford Funny Cars after the 2009 season, Neff has made the most of the opportunity, taking his green-and-white Ford to nine final rounds with a category-best five wins (equaling the total of teammate Robert Hight).
"Our car is running good," said the man who won his first world championship in 2005 as crew chief to Gary Scelzi, "(and) we have come from behind and won championships before. A lot can happen in two races."
Neff, who won the regular-season championship, just as Force did in 2010, credits his success to his support team.
"You get good people and you delegate," he said. "All these guys are efficient. You can't do everything by yourself and, if you try, you won't be effective. You have to trust your people."