R2B2 Racing press release
Troxel thrills In-N-Out Burger aficionados with big qualifying pass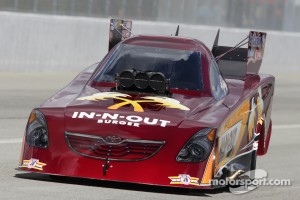 Melanie Troxel aboard her In-n-Out Burger Toyota Camry
POMONA, Calif. (Nov. 12) – It took a couple of days to get going, but Melanie Troxel and the In-N-Out Burger Toyota Funny Car are running strong heading into Sunday's eliminations at the Auto Club NHRA finals.
After the first two days of qualifying, Troxel had the 16th quickest qualifying run with rain threatening to swamp Southern California on Saturday.
Fortunately for her, the rains stayed away from Auto Club Raceway long enough to give the In-N-Out team the opportunity it needed. In the first session on Saturday afternoon, Troxel ran a blistering 4.087-second lap at 309.70 mph, which was good enough for fourth on the ladder.
The rain finally broke through while Troxel was waiting in the staging lanes for the fourth round of qualifying. At that point, racing was called off for the night and her third round time stuck.
"We kept working on little problems we were having getting the car down the track," Torxel said. "Finally we got those pieces to all fit in place on that 4.08 run.
"It's kind of disappointing to not get that final run because I was looking forward to trying to string runs together and make sure we had the consistency. We worked on things between Q3 and Q4 to make the tune-up safer so hopefully it would repeat that same number. I think we'll have that tune-up ready for tomorrow."
The effort is sweet redemption for Troxel and the R2B2 Racing team after not qualifying for the season opener at this very track back in February.
"It's nice to finish our season's qualifying with a strong number," Troxel said. "Tomorrow will be the important time to tell if we can back up the results we had during qualifying."
She will be paired against No. 13 qualifier Tony Pedregon, who had a best pass of 4.150 at 304.94 mph.