R2B2 Racing press release
Top-half starting spot the perfect elixir for Troxel and her ProCare Rx team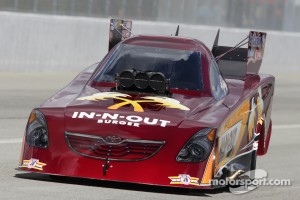 Melanie Troxel aboard her In-n-Out Burger Toyota Camry
BRAINERD, Minn. (Aug. 20) -- Melanie Troxel could hardly contain her excitement Saturday evening at the conclusion of professional qualifying for this weekend's 30th annual Lucas Oil NHRA Nationals. Her ProCare Rx Toyota Solara had just reeled off a string off impressive 1,000-foot passes and for just the fourth time this season she'll enter race day as one of the favorites in the crowded and competitive Funny Car class.
"I can't tell you the last time, or if it's even happened at all this year, when we've gone down the racetrack three out of four times with ETs that close," Troxel said. "Drag racers will take consistency over just about anything else and we seem to have found some here this weekend, so we're a bit optimistic at the moment."
After an opening session Friday where just two cars made it down the track, R2B2 Racing crew chief Aaron Brooks found an agreeable tuning window and helped his decorated driver peel off consecutive runs of 4.183 seconds at 300.73 mph, 4.182 at 304.74 mph and 4.184 at 298.60 mph.
Her best run matches her against Jack Beckman, who qualified one spot lower than Troxel with an elapsed time a scant .004 seconds slower than Troxel's best run.
"Starting out of the 8-9 spot is tough because you're most likely going to be the first two cars out in the morning and that adds an element of suspense because you're not exactly sure what the track will do," Troxel said. "Still, it's important to be in the top half and to have lane choice. We're 8 and he's 9, so he'll have to sleep on that tonight.
"It's also a good feeling knowing that we've been consistent enough to force our opponents to try that much harder to beat us. If your opponents know they need to step it up to beat you then they're more likely to make a mistake. All that stuff factors into winning and the odds are slightly in our favor right now, so that's a good thing."
Most likely out of the playoff hunt, Troxel said her team's goals remain the same.
"Our real focus is on improving the performance of this car," Troxel said. "We want to win some races as well, naturally, but to get this car behaving the way it's showing this weekend is something we've been working at very hard."