Don Schumacher Racing press release
SPENCER MASSEY LOOKS TO CONTINUE SUCCESS IN HIS RETURN TO THE U.S. NATIONALS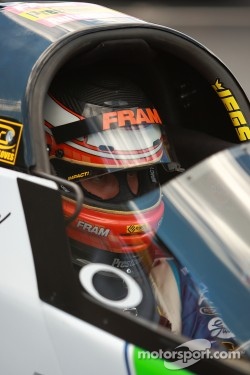 Spencer Massey waits to pull through the tower
INDIANAPOLIS, August 29, 2011 – Spencer Massey, whose last pro race at Lucas Oil Raceway at Indianapolis was 2009 when the rookie Top Fuel driver went to the semifinals in the "Big Go," sees this weekend's 57th-annual U.S. Nationals presented by Lucas Oil as more than simply the biggest date on the 2011 NHRA Full Throttle Drag Racing Series schedule.
"This is a huge race," said the 28-year-old Don Schumacher Racing driver of the Prestone/FRAM dragster. "It's the last race before the Countdown and we have a very real shot at moving into the number-two position before the playoffs begin (29 points behind DSR teammate Antron Brown). Getting that spot puts us 10 points closer to the leader after the points are reset for those final six races in the Countdown.
"And this is Indy, where so many moments in drag-racing history were written. It's great to be part of it, driving for Don Schumacher at the U.S. Nationals.
"Having said that, it is still a race and part of the regular season. We have to approach it the way we've approached all the other races on the schedule. I have to do the same thing I try to do each time I come to the starting line in the Prestone/FRAM dragster – get a good light, then stab (the throttle) and steer, letting the tune up Todd and Phil (Okuhara and Shuler, co-crew chiefs) put in the car do its thing." Success with the tune up has come throughout season as the Fort Worth native has won three races and put together a streak of 40-consecutive runs without smoking the tires.
"This has been an incredible season so far," Massey, who was out of competition last year when his previous team lost its sponsorship, explained. "I was happy and grateful to get such a great ride for this year and even though everyone expected great things from this team because of its prior success, winning three races to me was better than I could have expected. Hey, I had only won twice before!
"I just hope I am justifying the faith Don and the folks at Prestone/FRAM had in me. "And I'm just out there having fun drag racing in a Top Fuel dragster which has been my dream since I was four years old."