John Force Racing press release
NEFF TOPS FOR JFR ON FIRST DAY AT CHARLOTTE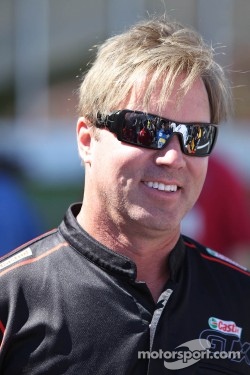 Mike Neff
CONCORD, NC --- The first day of the NHRA Countdown to the Championship started today at zMax Dragway in Concord and points leader Mike Neff led the way for John Force Racing posting the second quickest run on the day, 4.038 seconds, under the lights. Castrol GTX backed Neff is just ahead of teammate and 2009 Funny Car champion Robert Hight who will go into Saturday in the No. 7 provisional position. For these two drivers getting good times today sets up a Saturday qualifying day of fine tuning.
"You want to be solidly in the show leaving on Friday. You don't want to be on the defense rolling into the track on Saturday," said Mike Neff, the reigning Mac Tools US Nationals winner. "You don't want to worry about trying to get into the show."
"These are the prime conditions tonight and we should have good conditions but you can't count on that. The sun could be out and the conditions might not be there. We want to take advantage of each session. I am happy with what we did. It ran about all I was asking for. A 4.03, I am happy with that. We picked up two qualifying bonus points. We are solidly in the show and tomorrow we work on it a little bit more and try and get ready for Sunday. I am very pleased with where we are."
Robert Hight and the Auto Club Ford Mustang won the O'Reilly Auto Parts NHRA Nationals here in 2009 on his way to his first Funny Car championship. Today for Hight and crew chief Jimmy Prock the last run was about getting a number they could tune from for the rest of the weekend.
"I know (crew chief) Jimmy (Prock) is not happy with that but in all honesty I told all the guys good job. We have been looking for runs that were like 4.04 and the last time we ran like that was Bristol when we won. We haven't done that in a while," said Hight, a four-time winner in 2011. "We have changed some things. To get a run like that tonight a 4.060 that is nothing to get too excited about but now we have something to look at."
"It was smooth and we can work on that run. I am actually pleased with it. If we would have gone up there trying to run harder and smoked the tires we would have really felt stupid. It was a baby step in the right direction and we definitely have something to work off of and improve on tomorrow."
Team leader and 2010 Funny Car champion John Force struggled today but was proud to be racing the Honoring Our Heroes Castrol GTX HIGH MILEAGE Ford Mustang. Force smoked the tires both runs and will have two shots tomorrow to qualify for race day.
"Dean and Ron (co-crew chiefs Dean Antonelli and Ron Douglas) are going to look at what happened today and we are going to get it fixed. Neff made a great run and Robert and Jimmy are getting down the track. I am just proud to be racing this Honoring Our Heroes Stephen Siller Foundation Castrol GTX HIGH MILEAGE Funny Car. Those firefighters and police are the real heroes and I am going to give it my best to get this Mustang in the show," said Force.