John Force Racing press release
NEFF REACHES FINALS AT O'REILLY NHRA NATIONALS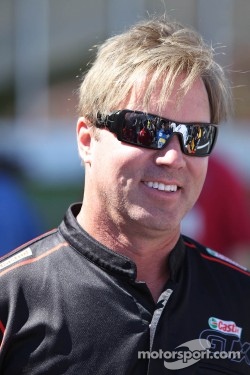 Mike Neff
CONCORD, NC --- Mike Neff came within a football field of ruining Matt Hagan's picture perfect weekend at the 4th annual O'Reilly Auto Parts NHRA Nationals. As Neff's Castrol GTX Ford Mustang crossed half track in the final it began mixing up cylinders and even though Hagan's DieHard Dodge Charger was also laboring it had enough to drive around Neff at the finish line for his first win of the season. Neff was racing in his ninth final in seventeen races and second final in a row.
Neff still has the Funny Car points lead by two rounds over Hagan who secured almost every point available in the Funny Car category including 20 points for setting the National ET record 3.995 seconds. Heading into Texas Motorplex outside of Dallas, Texas Neff know he has some momentum.
"I feel good about these past two races going to the finals. This Castrol GTX Mustang is running OK. I tried some stuff on Saturday because we had really good conditions here. I feel really good about this Castrol GTX Mustang," said Neff, the No. 2 qualifier. "We got to the final and I feel like we did some damage control. I give Matt Hagan a lot of credit his car ran great. Guys are going to have those kinds of weekends when they are just on and pretty much unbeatable. You can't be the best car every weekend. He had a great weekend and we also made it to the final without being the best car. Honestly, we let one get away from us this weekend. He had some problems and I smoked the tires. I could have walked out of here with the win really easily."
Neff once again proved his worth as a tuner battling changing conditions and reaching the final even though he did not have a dominant car. He did post a career best ET and mph in qualifying recording a 4.038 second, 314.17 mph qualifying effort. Neff smoked the tires in the first round much to the surprise of the tuner/driver.
"I was disappointed this Mustang smoked the tires. I thought I backed it down enough. You see a run like Matt's in front of you (4.01 seconds) and you think the track will take just about anything. I had something goofy in there. We'll go back and look at it and step it up in the next round," said Neff at the top end after his tire smoking win over Tony Pedregon.
Neff bounced back with a dominating 4.076 second pass versus fellow Ford driver Tim Wilkerson. In the semis against Matt Hagan's teammate Johnny Gray Neff posted a 4.080 second run to set up a classic John Force Racing versus Don Schumacher Racing Funny Car final.
"I am excited to get off to a good start in this first Countdown race. My Mustang has been responding to the changes I have been making. My crew is doing a great job. We haven't been hurting any parts. There were a lot of nerves coming into this first Countdown race. You definitely want to start off and have a good weekend. To be able to go to the final round here is big," said Neff.
"I am just going to focus on Dallas. You have to run one race at a time. You just do what you can do. I am not going to change anything just because it is the Countdown. I am going to look at these races as just regular races."
Neff's teammates struggled in the first round and both Hight and Force will be testing at zMax Dragway on Monday to fine tune their Ford Mustangs for the home stretch of the NHRA Countdown. 2009 NHRA Funny Car champion Robert Hight is ready to get back to action.
"I am putting this race behind me. I am focusing on Dallas. There are five races left and we are going to test tomorrow. There is no reason to save test days," said Hight, the No. 8 qualifier. "We are going to get this Auto Club Mustang running because there are only five races left. We are not out of it but we need to run better. I am excited to go to a race track like Dallas that is all concrete and we can run big numbers there. It is still about getting bonus points and getting round wins. I am glad Neff got to the final but I would have liked to have been racing him."
For John Force the weekend was bittersweet. He was racing a commemorative Funny Car paint scheme supporting the Stephen Siller Tunnel to the Towers Foundation. Force was emotionally charged representing firefighters and police officers who had sacrificed on 9/11 ten years ago but he also wanted to get the Countdown off to a good start.
"We are in a good place but Robert and I need to be there with Neff. We want to help Neff but we also want to get our own championships," said Force. "We are only the first race in. We can turn this thing around. I can win this Full Throttle championship or Robert can win this championship. If we can't then we better be able to be there to help our teammate. We are going to fight the competition and try to take them out."
"Dallas is the one that got away from me since my crash. I have a championship but I would really like a win there. I have won it plenty of times. I am struggling right now. I'll be testing tomorrow and the crew chiefs have been working hard. We'll see what happens but I have a lot of fight in me."