Lucas Oil Racing press release
Arana Sr. switching back to record-setting motor for Brainerd race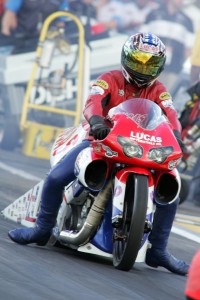 Hector Arana Sr.
BRAINERD, Minn. (Aug. 16) – Most athletes prefer to put a bad event behind them as soon as possible. But Lucas Oil Buell rider Hector Arana Sr. doesn't want to forget about the most recent Pro Stock Motorcycle race in Sonoma, Calif.
Arana Sr. suffered a catastrophic engine failure that damaged numerous parts of his Buell in that race. But Arana Sr. prefers to remember what happened so it won't occur again, either in this weekend's 30th annual Lucas Oil NHRA Nationals at Brainerd International Raceway or any other race this season.
"I can't let Sonoma be behind me because every time I walk in the shop, I've see all the parts scattered from 'Abigail,'" Arana Sr. said of the broken engine. "I go and look at her because I'd like to know exactly what happened. It's hard to pinpoint it."
The 2009 class champ[ion, Arana Sr. continually goes through the damaged parts, trying to figure out what broke first. The engine was so damaged that he still doesn't have an answer, but he's not giving up.
"Until I have an answer as to why it broke, I won't let it go," Arana Sr. said.
For Brainerd, Arana Sr. is using a refurbished engine named "Charlotte," the engine that set the national elapsed time record earlier this season. A backup engine is close to being ready, but Arana Sr. doesn't want to use it until he knows what happened with "Abigail."
"We're assembling another engine, and I sure can't afford another failure like we just had," Arana Sr. said. "The damage that it did, it wasn't just the engine. It broke the throttle body, it broke the oil pan, it broke the cradle for the chassis – there are things we're still working on to get it fixed. It wasn't just the engine."
But the Lucas Oil Buell is repaired and ready for Brainerd.
"I'm going to use Charlotte," Arana Sr. said. "We freshened her up, so she'll be ready to go."