Ford Racing
This Week in Ford Racing
John Force smiles for the cameras
As John Force heads back to the Lucas Oil Raceway at Indy for the 57th annual Mac Tools U.S. Nationals, he hopes to piggy back on the back-to-back success at this race track from his daughter, Ashley Force Hood, and take home a win after an unsuccessful run at the last event.
Force has also just recently welcomed a new grandson into the Force-Hood family with daughter, Ashley, giving birth to her son, Jacob John Hood, just last week.
JOHN FORCE RACING IS TESTING AT LUCAS OIL RACEWAY PARK THIS WEEK. DOES IT SEEM LIKE THE TIME HAS FLOWN BY AND HERE YOU ARE BACK IN INDY AGAIN?
"Yeah through all the ups and downs of racing, we've had a couple cars that were getting fast and now we're kind of struggling going into the countdown. But we're out here testing. (Mike) Neff's car was unstoppable, and so was Robert Hight's at the beginning of the year. But they're both going into the countdown, one and two. I'm down to sixth or seventh, but we're in. We locked it in. We've been struggling here lately, but that's why we're out here to test.
"Courtney is here testing the Brand Source Funny Car for Ford and this is about her fifth or sixth weekend now. She has about 40 runs under her belt. But today we have a loose track and NHRA is working on it. It's hot. There isn't anyone running, but us and a few stockers out here and motorcycles. So the track is not really up to where it needs to be. We have a lot of tires smoking. Mike Neff did manage to go down it one run, but even smoke in the tires you learn something, especially a rookie driver. They learn how to get off the gas and not back fire the motor when it gets loose. Indy has been good to me. It's been good to Robert Hight, he's won it, Ashley and myself. So that's what we plan on doing here this week."
ONE OF YOUR DAUGHTERS, ASHLEY FORCE HOOD, HAS WON AT INDY THE LAST TWO YEARS. DOES THAT GIVE YOU ANY SORT OF CONFIDENCE OR COMFORT?
"It always does because the teams know the track. Dean Antonelli and Ron Douglas that run the team led Ashley's team. She's won Indy the last two years in a row and that's quite an accomplishment. So I know the cars there. There's differences because of the weight differences. I'm about 30-40 pounds heavier than her and that's really a factor. But we addressed that after we left Brainerd because the tracks are getting different. Earlier in the year we had good air, good tracks and we had some loose tracks too. But we're addressing that right now."
TALK A LITTLE BIT ABOUT YOUR HISTORY WITH INDY, HAVING FOUR CAREER WINS THERE YOU ARE NO ROOKIE. WHAT DOES IT TAKE TO GET THROUGH SUCH A LONG EVENT?
"Well, first, usually at Indy we get put into the heat and it's real hard. It's hard on the employees, they work hard and you have to keep them hydrated and refreshed. My guys know how to pace themselves, all of the team. And that's what they'll do. If you run out the first day and you put it all out there, you just drain everybody. You just set a pace for the weekend and then on race day on Monday you let it all hang out."
INDY IS THE LAST RACE BEFORE THE COUNTDOWN TO THE CHAMPIONSHIP. HOW ARE YOU FEELING GOING INTO THE PLAYOFFS? "We're excited. It looks like all the Fords are going to make the Countdown. I was put in last week with Robert Hight and Mike Neff in the lead (in points). Wilkerson with his Ford Mustang, I think he's locked in or pretty much there and Bob Tasca is 10th. He only needs one round or so and he's there. So I'm pretty positive he's going to make it. The Fords are doing good. We're in a tough economy and we're just excited that Ford Motor Company stays with us and gives us not only the financial support, but their tech people and engineers give us these cars to help us win championships. And that's what we plan on doing again."
YOU'LL HOST THE JOHN FORCE SUMMER CAR SHOW AT THE JFR SHOP IN BROWNSBURG, IND. ON THURSDAY, SEPT. 1, 2011, BEFORE THE U.S. NATIONALS. WHAT CAN FANS EXPECT?
"Yeah and I was amazed last year. We probably had 12-13,000 people, maybe even 15,000 people visit. It was exciting. We're able to show our shops and the technology, like the chassis shops here and the Eric Medlen Project. We're able to show where we built the BOSS 500 motor and to give the people a tour and see how at John Force Racing I have personally invested to grow this company and try to be cost-effective. It's working. We work with Ford engineers to build better, safer stuff and that's what it's all about. We got a new dragster coming, either Top Fuel or A-Fuel, it can go either way. We haven't decided yet. With engineering studies from Ford and Murf McKinney, who built the original prototype, we hope to test that car and get my daughter Brittany fitted for that car. We're going to run the Top Fuel motor in it with a restrictor plate. We don't have a team for A-Fuel, if we decide to go that way. But we're going to test it, and NHRA allows that so we don't lose any test sessions. So Brittany should be up and going before the end of the year."
WHAT ARE YOUR PLANS FOR BRITTANY? ARE YOU TAKING YOUR CUES FROM HER ABOUT WHAT SHE WANTS TO DO AND HOW MANY RACES SHE'S GOING TO RUN? IS SHE LOOKING AT A LIMITED SCHEDULE OR POTENTIALLY FULL IN THE FUTURE?
"As far as Brittany in the dragster, we're just getting it done. It's a prototype. Robert or myself may test the car, I'm not sure. We have experience and we want to test the dragster, but we know it's going to be okay. It has the new three-rail concept, same thing that the Funny Cars have. So we know the driver will be safe in the cockpit. Ford was involved in the engineering studies, as well as Murf McKinney's group. Then we'll decide, after she makes some laps in it, then she'll tell us which way she wants to go. But she's having a lot of fun. They love the sport. I had to pull them out of the sport last year after a driver was lost in a crash. Courtney lost a tire in the dragster. So we parked the dragsters. I just wanted to readdress the three-rail first and get my kids back in that because I have more confidence in that.
"Courtney in the Funny Car, she's ready to go now. She's ready to go pro. She's just got to get a lot of runs under her belt. Like I said out here today smoking the tires, you even learn from that. Because when you're new at this, when do you learn it? On race day? It can be very expensive if the driver doesn't get their foot of the gas, the motor can back fire and with the body that can be hundreds of thousands of dollars. So it's good to get experience. But we're going to keep testing her here and then we'll take her to Charlotte, Reading, Pa., Dallas and Vegas and try to get all the seat time we can."
IN SOME EXCITING OFF-THE-TRACK NEWS COMING FROM YOUR FAMILY, ASHLEY AND DAN HOOD AND THEIR NEW BABY JACOB JOHN, WHAT WAS THAT LIKE FOR YOU?
"I love the fact having a boy, but I'd been just as happy if it were a girl. I've got four beautiful daughters, a granddaughter Autumn and we now have a boy, 7 pounds, Jacob John. He looks like his dad. Dan Hood's dad, Kelly Hood, is really proud as I am, and so are both their grandmothers on both sides. We're excited. Ashley was a trooper. She went right through it. I got there within an hour after his birth, but when I got there Ashley was sitting up in the chair and holding the baby. I said, 'Why aren't you laying down?' and she said, 'Dad, it wasn't really that tough.' So for some women it's hard to go through, but Ashley, like teaching her how to drive a Funny Car, it was pretty easy for her. But Dan said she never even raised her voice during the delivery. She was very calm like she is in the fuel Funny Car. So we'll see where we go next."
"I'm excited and curious like everybody else as to what Ashley's thoughts are. Like her mom said, she's only had her baby just short of a week and I just want to see. I know she's not going to jump out and get in a race car at Indy next week, but we want to see what motherhood, which direction it takes her for now. I know she'll get back in the Funny Car, if not next year then maybe a year from now. But I know she's definitely coming back because she told me so. I want her to have this time, her and her husband, enjoy this time and not have dad over there as a game owner yelling 'Get back in the fuel Funny Car!' But it's exciting. She said the baby sat with her and they listened and watched the race on Sunday. Her granddad didn't do very well. Her grandfather, Kelly with the Dale Creasy Jr. team, they had a good race car. They qualified right up at the top, but I struggled and I couldn't get past first round."
"The race car is a little bit down, but Jacob John is perfect. We can't wait to get home. We have a lot of work here this week, but we can't wait to get home this weekend. I get to see him and get to hold him if they let me. We'll see what happens. When they told me Jacob John, I said 'Yes!' they at least have my name in there. And they said that is Dan's middle name and it's Dan's dad, Kelly John, middle name. I think they kind of made it after everybody. That was kind of nice, it made all the grandparents happy."
***
Mike Neff, driver of the Castrol GTX Ford Mustang Funny Car, has a heavy point advantage in the 2011 NHRA Full Throttle Funny Car Series, leading the pack of Ford Funny Cars into The Countdown. Coming from a crew chief background with John Force Racing, he is starting to feel the pressure of doing so well unexpectedly, but is looking forward to continuing his streak of success into the final stretch.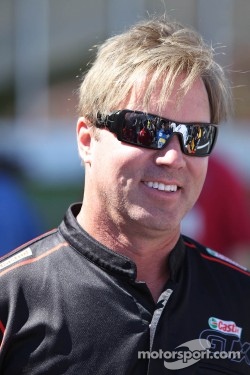 Mike Neff
YOU HAVE A COMMANDING POINT LEAD GOING INTO THE COUNTDOWN OF THE CHAMPIONSHIP, DID YOU FORSEE THIS AT THE BEGINNING OF THE SEASON AND WHAT DID YOU SEE ALONG THE SEASON THAT CREATED THE DYNAMIC RESULTS YOU'VE GOTTEN?
"Definitely didn't expect to be doing as well as we have this early. I would've expected it out of Allen (Johnson) and Del (Worsham). Allen won 13 races last year and Del is just an experienced driver as anybody, dragster or not. But for us, I hadn't driven in a couple years and there's definitely more to do when you're trying to do them both (crew chief and driver) and can get a little more confusing. We're definitely thrilled it's gone this well. The biggest tribute is it's my team, the same team I had last year that won the world championship with John Force. And they're all doing the same thing and that's the main part right there."
YOU COULD BE A POSTER BOY FOR ADAPTING, COMING RIGHT OFF BEING A CREW CHIEF INTO THE DRIVER SEAT. HOW HAVE YOU ADAPTED SO WELL?
"It's kind of what you're up against. You don't really have a choice, these are the circumstances and what you gotta do and you just do what you gotta do. It wore us out, it wore me out at the beginning especially going into the final round it was a long stressful day trying to do one or the other. Now I've just kind of gotten used to it and it doesn't really seem that bad anymore."
YOU ARE DRIVING LAST YEAR'S CHAMPIONSHIP CAR. DOES THAT GIVE YOU ANY ADDITIONAL PRESSURE TO PERFORM UP TO WHAT THE CAR HAS DONE IN THE PAST?
"Actually it was a lot less pressure for me this year even than from last year with John Force driving. Everybody expects John to do good and he needed to do good. His sponsors were wanting him to get back on track, so there was a lot of pressure last year. Then the way it worked out this year with Ashley getting pregnant and me getting thrown back in here at the last minute. There really wasn't any pressure at the beginning. It was just fill in for the year, do the best you can and knowing all the pressure will be on John. That's who everybody is looking at and expecting him to do good. But now that we've done as well as we have and now that we are in the points lead, now I'm starting to feel the pressure because you just don't want to let it slip away now, the countdown is coming. You're just hoping you can finish strong and keep it going. The worse thing would be to do this well and then get to the countdown and just bomb out. So now the pressure comes from just wanting for ourselves to just keep going to the end."
ARE YOU MORE COMFORTABLE IN YOUR ROLE AS DRIVER OR CREW CHIEF? IF YOU HAD TO DO ONE, WHICH WOULD YOU CHOOSE AND WHICH DO YOU THINK YOU COULD DO BETTER?
"If I had to do one and probably what I do better is crew chief part of it. I like that a lot more. It's a lot more of a challenge than just driving. I like working with the team and being part of all that and the car set-up, the new technology, racing the race track. It's that part of the game, there's just so much more that goes into than what the driving is. The driving is unbelievable. It's the greatest thrill I could imagine and I definitely love doing it, but if I could only do one it would be crew chief.
WHEN YOU WERE CREWING FOR ASHLEY AND JOHN, DID THEY QUESTION YOUR JUDGEMENT ON SETUPS OR WAS IT BASICALLY YOUR CALL?
"No, they've never questioned. John doesn't know anything about it himself so he just leaves it all up to us. He's not one of those guys that will second guess you. He's our biggest cheer leader even when we're not doing good. So there's never been any pressure or second guessing coming from his part."