Old Bridge Township Raceway Park
Points Leader Neff Finds Dual Role 'Exhausting'

ENGLISHTOWN, N.J. – If things go as anticipated this week at Old Bridge Township Raceway Park, Funny Car points leader Mike Neff won't be in actual competition for more than 16 or 17 seconds.
During that time, his Castrol GTX® Ford Mustang will cover slightly more than three-quarters of a mile of straight-line real estate and yet, at the Sunday conclusion of the 42nd annual NHRA SuperNationals, he likely will be both physically and mentally exhausted.
Such has been the case since the 44-year-old native Californian took on the dual responsibilities of driver AND crew chief this sason on the 8,000 horsepower hybrid that last year carried John Force to his 15th NHRA Funny Car championship. Neff was crew chief then. He's much more now.
... I was just mentally drained.
"Trying to do both (jobs), it just wears you out," said the man who, before moving over to John Force Racing in 2008, directed Gary Scelzii to the 2005 championship. "I'm working on trying to get myself to be able to go the distance all year long, both mentally and physically. My goal is to feel as good on the last run on Sunday as I do on the first one."
To this point, though, that hasn't been the case. Even though he won the Tire Kingdom Gatornationals at Gainesville, Fla., and has been runner-up in each of the last three Full Throttle tour events, Neff admits that it's been a struggle.
"At the end of Gainesville, I was just mentally drained," he said. "Even though it was the best day of racing I've ever had, I was exhausted. To go to a final round as either driver or crew chief is, in itself, a mentally draining deal. Just about anybody will tell you that they're worn out at the end of the day.
"Doing both jobs just puts more pressure on you," said the former motocross rider. "I'm more tired at the end of the day. When I was just the crew chief, I was busy, but I had down time where I could just chill out.
"Same thing as a driver," he continued. "You've got nothing but down time when all you do is drive. Drivers can sit around in the air conditioning before a run, listen to their ITunes, suck on their oxygen or whatever else they gotta do to get themselves ready before the run.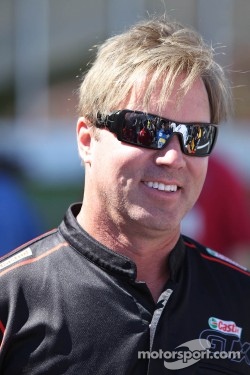 Mike Neff
"Well, I can't do that," Neff emphasized. "I'm running up there looking at the track. I'm trying to figure out the set up, I'm trying to tell everybody what they need to do and then, at the last minute, I've got to throw on my crap and get in the car."
Still, he wouldn't have it any other way.
"I'm very pleased with the way things have gone so far," he said. "We've been to the last three final rounds, the car's running good and my team is great. That's what's making this even possible. They're so good at what they do (that) I don't even have to worry about the car and the maintenance or anything like that.
"My goal at the beggining of the year was to make the Countdown," Neff said. "That's the first priority. Now, if I could go into the Countdown in the Top 3, I would be thrilled with that."
The 2008 NHRA Rookie of the Year, Neff won what he thought might be the last race he ever drove – the 2009 Auto Club Finals at Pomona, Calif. After earning that breakthrough first victory, he climbed out of the cockpit to take over crew chief responsibilities on the Mustang driven by his boss, John Force.
He responded by sending Force to his 15th NHRA title and now, he's tuning and driving virtually the same car, a hybrid Mustang that has appeared in 15 of the 30 Funny Car finals contested over the last 15 months with seven wins.
Force, meanwhile, has moved over one pit spot to drive the Castrol Mustang vacated by his daughter, Ashley Force Hood, is expecting her first child in August.
"I just want to be a contender and have a chance," Neff said. "Right now, I'm rooting for my teammates, especially Force, to get rolling because it's going to take all three of us thumping for one of us to win the championship.
-source: jfr