Heartland Park Topeka
As Driver, It's On The Job Training For Mike Neff
TOPEKA, Kan. – Mike Neff, the talented Funny Car crew chief who last year helped return drag racing icon John Force to prominence by directing him to six NHRA tour victories, undoubtedly is the best of the current crop of young mechanical minds in the NHRA Full Throttle Drag Racing Series.
As the only active Funny Car crew chief with multiple championships (one with Force in 2010, another with Gary Scelzi in 2005), he has for years been a very big deal among those inside the 8,000 horsepower, zero-to-100 in less than a second crowd.
Nevertheless, now that he's taken on dual responsibilities as both crew chief AND driver of the Castrol GTX Ford Mustang, the car in which Force dominated last year, the 44-year-old with the Hollywood good looks has become a very big deal ever outside his peer group.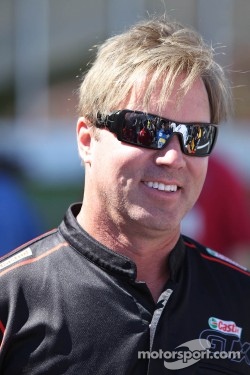 Mike Neff
In fact, entering this week's week's 23rd annual NHRA Summer Nationals at Heartland Park-Topeka, Neff leads the Funny Car point standings after reaching the final round in three of the season's first six races.
For rivals, though, the most sobering aspect of Neff's performance may be that he has been so successful this year even though his car hasn't been as good as he expected and even though his driver, at times, has been guilty of the kinds of mistakes one would expect of someone with just 54 races behind him.
"I was feeling pretty good about my driving until my little hiccup at Houston," Neff said, referring to a final round foul start that cost him his second win of the year. "As a result, last week at Atlanta I was gunshy. Everybody said 'put it out of your mind, don't think about it' but that's easier said than done.
"The first time I rolled up there to stage on the first qualifying run, I thought my whole body was gonna lock up," said the man who, in his first incarnation as a driver, before he took on the Force reclamation project, won the Auto Club's 2008 Road to the Future Award as the NHRA Rookie-of-the-Year.
"It was like re-living a terrible nightmare," he said of the foul. "So, I have to try to work my way through that – and I will – but that definitely set me back. I definitely was mental last week."
Although he took full responsibility for the miscue, Neff acknowledged that his expanded role may have played a part if only because it took him out of his routine. He didn't eat properly, didn't stay hydrated and, in the final, simply lost focus. Now, though, he is aware of the need to stay strong all day long.
"I got to the final and my brain was just not all there," Neff said of his Houston experience. "I just wore down and made a mistake. That's the long and short of it. I felt really bad because my guys gave me such a great car. You just have to learn from it and move on.
I definitely was mental last week.
"My team's great," Neff said. "That's what's making this even possible. They're so good at what they do, I don't even have to worry about the car and the maintenance or anything like that.
"It's pretty much the same team as we had last year," Neff continued, "which is why I think we got up to speed so fast, getting to the finals in three of the first six races. We kind of knew each other's program.
"Bernie's still a big part of it," he said, a reference to Canadian Hall of Famer Bernie Fedderly. "We lost (Austin) Coil, but Danny Hood's doing a lot of things that Coil did, you know, the fuel data and keeping up with the weather. He's been great; real helpful. John Schaffer is my right hand man. He takes care of everything on the car. He's very good at what he does – as well as everyone else."
The upshot is that a man who doesn't even know if he'll have a ride in 2012, is taking the ride of his life.
"I'm just excited to have the opportunity to do this," Neff said, "and this might be it. This might be the last year I drive – so I'm going to give it everything I've got."
-source: jfr