With star continuing to rise, Funny Car driver Courtney Force reflects on her first win at the O'Reilly Auto Parts NHRA Northwest Nationals.
KENT, Wash. – It may be a year later, but as NHRA Mello Yello Drag Racing Series star Courtney Force returns to Pacific Raceways near Seattle, the memory of her first Funny Car win remains just as strong.
Force's star continues to rise, moving at a seemingly meteoric rate after standing in the winner's circle for the first time in her Funny Car career just one year ago at the O'Reilly Auto Parts NHRA Northwest Nationals.
This year she enters the event, which takes place Aug. 2-4 at the scenic multi-purpose motorsports facility, as the defending champ, along with Steve Torrence (Top Fuel) and Erica Enders-Stevens (Pro Stock). The race marks the final stop in the grueling three-race Western Swing and will be televised on ESPN2 HD (qualifying Saturday, 10:30 p.m. ET and eliminations, Sunday, 7 p.m. ET).
Many eyes will again be on Force, the youngest daughter of legendary 15-time world champion John Force, who couldn't help but feel nostalgic heading back to the Pacific Northwest.
"I'm thrilled to be returning to Seattle because I have so many great memories at this track," Force said. "I picked up my first win in Top Alcohol Dragster here in 2009, as well as my first win in Funny Car last season. Picking up my first win last year was the best moment of my career.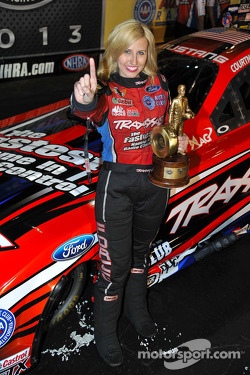 Courtney Force
"Being in the winner's circle at this track with my Traxxas team flooded me with emotions since it had always been a dream of mine to get a win in Funny Car one day. I always enjoy coming back to this track because it has been lucky for me in the past, and I'm hoping to continue the luck this weekend."
There hasn't been much luck involved, as Force has impressed at every turn. Since the first win in Seattle, she has claimed the 2012 Auto Club Road to the Future Award as the sport's top rookie and won twice in 2013, beating her father during the NHRA's incredible debut at New England Dragway.
Along the way, she has garnered a long list of compliments from veteran drivers for everything from her driving ability in her 8,000-horsepower Traxxas Ford Mustang to her rigorous work ethic off the track. Force also feels like a completely different driver heading to Seattle a year after her first Funny Car victory.
"I feel that I have grown a lot as a driver and things are starting to come around a little more naturally with driving, compared to last season," Force said. "I'm still a new driver but the more laps I make in my Funny Car the more experience I'm gaining. Last year it was all about the basics; this year I'm pushing myself harder as a driver to do better on the track and to catch things quicker in the car. I am challenging myself with new things. It's exciting but there are always bumps in the road that come along with a learning curve in drag racing."
Through it all, Force has juggled countless appearances as she continues to carve out an impressive name for herself in the sports world. She recently appeared on the cover of ESPN The Magazine, the latest accomplishment for the standout who has quickly become one of the most popular drivers in the sport.
Still, Force has maintained a strong focus on the track, advancing to the semifinals last weekend in Sonoma before losing to eventual event winner Ron Capps. With Seattle marking the end to the three-week Western Swing and also a stretch that has included seven races in eight weeks, Force knows she can't let her mindset slip.
"I do my best to be prepared for races and although it was our lucky track last year, you never know what to expect and have to see it as a brand new race and not as the race you previously won," Force said. "Although I do feel comfortable driving on this track, you never know how the conditions will be different or how your opponents will step it up. I'm excited finishing up the Western Swing at a familiar track but mainly getting focused on clinching a spot in the top 10 for the countdown to the Championship.
"I've got a great group of guys on my car and amazing crew chiefs with Ron Douglas and Dan Hood and our focus is on the championship. Consistency is key so we are focused on making more consistent passes during qualifying in hopes of gaining those bonus points since they all add up at the end. I'm feeling confident and am just thankful and excited to have the job that I do with such great sponsors supporting me."
Sitting in a tie for sixth in the points standings with defending world champion Jack Beckman, Force is right in the middle of a furious battle for first where the top seven drivers are separated by just 124 points. Without question, Funny Car is a loaded class featuring an abundance of stars, including current points leader Matt Hagan, Sonoma winner Ron Capps, who moved to second in the standings, four-time season winner Johnny Gray, and three-time season winner Cruz Pedregon. John Force, a seven-time Seattle winner, Tequila Patron Toyota Camry driver Alexis DeJoria and veteran Del Worsham are also viable contenders as well, making Courtney Force's quest to repeat a difficult one.
"I'm excited to see the improvements that we have made this year and how far we have come as a team since last season going into this race," Force said. "At this point last season we had yet to get a win and still ended up fifth in points by the end of the season. Being that we have two wins under our belt so far this year, it gets me excited to see where the rest of the season will take us."
Steve Torrence
In Top Fuel, defending race winner Torrence will need to hold off red-hot Shawn Langdon, who won his fourth race of the season in the Al-Anabi Racing dragster at Sonoma and extended his series points lead to 102 over second place Spencer Massey, a three-time season winner. Seven-time world champ Tony Schumacher is third overall, also with three wins this season in the U.S. Army dragster. Meanwhile, defending world champ Antron Brown is working to get his season back on track, and Doug Kalitta, Khalid alBalooshi, Clay Millican, Bob Vandergriff and Sonoma runner-up Morgan Lucas are all running extremely well.
In Pro Stock, points leader and two-time Seattle winner Mike Edwards hopes to continue building on his upward momentum, but defending world champion Allen Johnson, who has posted four wins in 2013, continues to inch closer. Johnson's teammates, Jeg Coughlin and Sonoma winner Vincent Nobile, have been equally hot this season and continue to climb in the points standings. A couple of past Seattle winners, Jason Line and Greg Anderson, as well as several other 200 mph thrillers, including Shane Gray, V. Gaines and Rodger Brogdon, also will be looking for a victory.
Since 1960, Pacific Raceways been known as one of the most picturesque and welcoming venues of all NHRA Mello Yello event tracks. The Fiorito family has been committed to the sport since the NHRA's beginnings making the facility a favorite among fans and drivers.
The teams in several categories of the NHRA Lucas Oil Drag Racing Series also will thrill the crowds with intense side-by-side competition.
As always, every ticket purchased for the O'Reilly Auto Parts NHRA Northwest Nationals is an exclusive pit pass, allowing spectators to see firsthand the highly-skilled mechanics service their sophisticated hot rods between rounds. Fans can meet many of the drivers in the pits and get autographs. Fans will also want to check out NHRA Nitro Alley and the popular NHRA Manufacturers Midway.
NHRA Mello Yello Drag Racing Series qualifying sessions are scheduled for 2:45 and 5:30 p.m. Friday, Aug. 2, and will continue Saturday, Aug. 3, at 12:30 and 2:30 p.m. Final eliminations will begin at 11 a.m. Sunday, Aug. 4.
NHRA