GLENDORA, Calif. (Aug. 6, 2012) – Ever since Shirley Muldowney broke gender barriers in NHRA back in the early 1970s by winning 18 races and becoming a three-time NHRA Top Fuel world champion, women have achieved great levels of success competing in the NHRA Full Throttle Series, the world's marquee drag racing series.
Courtney Force
On Sunday in Seattle, 24-year-old Courtney Force, daughter of 15-time NHRA Funny Car world champion John Force, continued the tradition. She beat defending world champ Matt Hagan in the final round of the O'Reilly Auto Parts NHRA Northwest Nationals at scenic Pacific Raceways to earn her first career victory. The rookie driver became the 13th different female to win a race at the most elite level of the sport. She is only the third woman to win a Funny Car race, joining older sister Ashley Force Hood and Melanie Troxel.
In Seattle, more NHRA history was made as Pro Stock driver Erica Enders also scored a victory, the second of her career. It was the first time two women shared a winner's circle podium at an NHRA Full Throttle Series event.
"To have both me and Erica in the winner's circle is awesome," Force said. "We're not just out here to race the boys, we're here to beat the boys and today just proves that."
Earlier this year in Chicago Enders became the first female to win an NHRA Pro Stock race in the category's 42-year history. Enders is happy to welcome yet another female winner to the exclusive club.
"This [the women drag racers] is a big family out here, and all of the girls tend to stick together," Enders said. "I couldn't be more proud of [Courtney]. She's an awesome driver and she does a tremendous job out here."
On her way to victory, Force powered her Traxxas Ford Mustang past three former world champs in Cruz Pedregon, her father and defending champ Hagan. She also beat Bob Tasca. Hagan, who lost to Force in a thrilling side-by-side photo finish, said he was happy for her.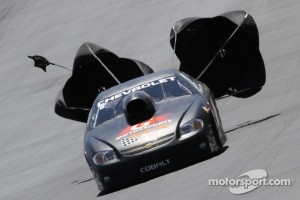 Erica Enders
"Every guy worries about losing to a girl, but I don't at all," Hagan said after the final. "She's a great driver and doing a heck of a job. She's driving the wheels off that thing."
Her father sees more wins coming for his daughter and the many other women who compete in the 300 mph sport."The women know their drill," John Force said. "I am also really proud of Erica Enders to go out there and do what she did. Shirley (Muldowney) started all this with a number of other women.
These are the young kids they are our future. It is awesome where they are going to be in 10 years. I am really excited. It is a sport for the women. It has always been a sport for the men but the rules are changing."
The following women have won NHRA Full Throttle Drag Racing Series events:
| | | | |
| --- | --- | --- | --- |
| 1. | Angelle Sampey | Pro Stock Motorcycle | 41 |
| 2. | Shirley Muldowney | Top Fuel | 18 |
| 3. | Karen Stoffer | Pro Stock Motorcycle | 6 |
| 4. | Melanie Troxel | Top Fuel-Funny Car | 5 |
| 5. | Shelly Anderson-Payne | Top Fuel | 4 |
| | Lori Johns | Top Fuel | 4 |
| | Ashley Force Hood | Funny Car | 4 |
| 8 | Erica Enders | Pro Stock | 2 |
| 9. | Lucille Lee | Top Fuel | 1 |
| | Cristen Powell | Top Fuel | 1 |
| | Peggy Llewellyn | Pro Stock Motorcycle | 1 |
| | Hillary Will | Top Fuel | 1 |
| | Courtney Force | Funny Car | 1 |