Brittany Force released from hospital following Pomona shunt
Top Fuel champion Brittany Force has been allowed to return home after a precautionary overnight stay in hospital.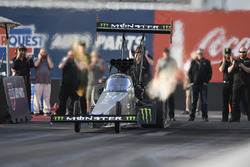 According to John Force Racing team statement, Force "shows no lingering effects from injury except for some upper-body soreness. Force will continue to recuperate at home."
Force, JFR's first and only Top Fuel racer, suffered a nasty shunt in Pomona when her dragster slewed across the track, making very heavy side-on contact with the concrete wall on the left. The car then toppled and skidded briefly on its side before being pushed back onto its wheels by further contact with the right-hand wall.
Force remained conscious and was taken to a local hospital where she remained overnight under observation.
The next round of the NHRA Mello Yello Series is in Wild Horse Pass Motorsports Park near Phoenix, AZ, next week. The JFR team has not yet indicated whether Force is likely to race there, nor if there is a contingency plan.
Brittany Force released from hospital following Pomona shunt