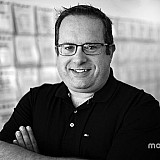 Todd Gilliland, who won the ARCA race at Toledo earlier this season at 15 years old, is set to make his NASCAR debut this weekend at Phoenix International Raceway.
Gilliland, the son of NASCAR veteran David Gilliland, will debut in the NASCAR K&N Pro Series West race at Phoenix with Bill McAnally Racing driving the No. 54 Toyota.
"I'm excited about making my debut in the K&N Pro Series West," Todd said. "I look forward to competing in the series where my father and grandfather experienced great success and I'm pleased to make my first start working with BMR."
The third-generation driver from Sherrills Ford, N.C., has already scored a victory in ARCA, winning just two days after his 15th birthday in May at Toledo (Ohio) Speedway.
Todd's father, David, won the rookie title in K&N West in 2004 and his grandfather, Butch, won the 1997 championship in the series, when it was known as the NASCAR Winston West.
Todd picked up his first career Late Model win at Southern National Motorsports Park in North Carolina in March. He also won a X-1R Pro Cup Series race at Hickory, N.C., last season.