Get alerts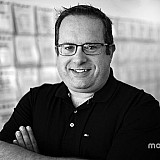 Former NASCAR Mexico champion Ruben Garcia Jr. is now a race winner in the United States.
Garcia, who won the NASCAR Mexico series title in 2015, has been competing full-time in the K&N Pro Series East the past two series searching for his first victory in the United States.
It finally came together last Saturday night at Memphis International Raceway in Millington, Tenn., when Garcia jumped to the lead after the Lap 100 break and led the final 38 laps en route to picking up his first series victory.
"It literally is a dream come true," Garcia, 22, said. "When I was very little, it was a dream come true to race NASCAR in the United States. Thanks to the Drive for Diversity program and Rev Racing that was possible three years ago.
"I felt like I accomplished one of my biggest dreams and I was thinking, 'What's next?' I wanted (a win) so bad, we were so close. Especially last year we were so close and couldn't make it. Finally, this season we got it.
"I know a lot of great stuff will come for me and the team."
Garcia is the seventh different driver from the Drive for Diversity program to win a Pro Series East race and gave Rev Racing, which has fielded the competition team for the program since 2010, its 18th win.
He is the fourth Mexican-born driver to win in the series, following Ruben Pardo (2006), Rogelio Lopez (2007) and three-time series race winner and now Cup series driver, Daniel Suarez (most recently 2014).
Garcia believes now that he as finally broken into Victory Lane, more success will follow.
"I know after the first (win) things change a little bit, a lot of drivers say that," he said. "As a driver, if you go to the race track without thinking you are capable of doing it, then you've already lost.
"We always go to the race track standing high and thinking we are capable of doing it. We proved we were very strong a couple of times but when you finally do it, it's different. It's like you already have that (win) under your belt so it really, really builds confidence in you.
"It just gives you way more confidence in yourself."