Get alerts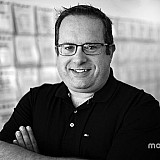 NASCAR Xfinity Series points leader Daniel Suarez says he's not "very big in politics" but is "super proud" to be a Latin American driver racing in the United States.
Suarez said he was not aware of the political endorsement of Republican presidential candidate Donald Trump made two weeks ago by NASCAR Chairman Brian France and several past and current drivers until his public relations representative told him it could come up in questions.
France's move came as a surprise, not because he hasn't endorsed political candidates in the past, but because of NASCAR's decision last year to pull its annual Xfinity and Truck series banquets from the Trump National Doral property, following what many considered to be Trump's racist comments toward Mexican immigrants.
Suarez blazing a trail for Mexicans in NASCAR
After a second-place run last weekend at Las Vegas, Suarez became the first Mexican native to lead the standings in any of NASCAR's national series – Sprint Cup, Xfinity or Trucks.
"All I can say about that is that I'm super proud to be Mexican, to be a Latin American driver in the United States. I'm very lucky to have a lot of support from the United States and from NASCAR in the past four years and what we've got for this year so far," Suarez said Friday at Phoenix International Raceway.
"And, who knows, without being Mexican I wouldn't be here right now because it's been unbelievable the support I've had from NASCAR through the 'Drive for Diversity' program and all of these programs to put myself in the right position to get opportunity that I have right now.
"So, like I said, I'm very proud to be Mexican and whatever is going on with the politics, that doesn't change anything."
France endorsement met with controversy from within NASCAR
France's endorsement has caused consternation within the NASCAR industry in large part because the Trump campaign and some media outlets have equated France's endorsement as one made by the entire organization.
NASCAR has issued at least two statements since France made the comments at a campaign rally in Georgia reiterating the endorsement was a personal decision and not a corporate one.
In fact, shortly after the public endorsement, Motorsport.com reported France sent an email to all NASCAR employees defending his decision to endorse Trump and said NASCAR would remain "a model of a progressive organization."
On his Twitter account and in repeated interviews over the last two weeks, Camping World CEO Marcus Lemonis, whose company sponsors NASCAR's Truck series, has publicly chided France for making the endorsement.
Lemonis pushed for NASCAR to leave the Trump property last year in a June 30 letter to France following what Lemonis said were Trump's "blatantly bigoted and racist" comments about Mexicans.