Amanda Vincent, NASCAR correspondent
After a restart with about 40 laps to go, Ricky Stenhouse Jr. drove his No. 6 Roush Fenway Racing Ford away from the No. 18 Joe Gibbs Racing Toyota of Mark Martin to win the Sam's Town 300 NASCAR Nationwide Series race at Las Vegas Motor Speedway on Saturday by a five-second margin.
"That was one serious beat down Ricky Stenhouse Jr. just put on me there at the end," Martin said.
This Mustang was fast today.
Stenhouse grabbed the race lead from Martin by barely beating him off of pit road during a debris caution that came out on lap 144 of the 200-lap race and then held Martin off on two late-race restarts to claim his third-career series win.
"This Mustang was fast today," Stenhouse said. "We didn't have it good at the start."
Pole sitter Elliott Sadler recovered from early-race handling issues to finish third in the No. 2 Richard Childress Racing Chevrolet. He slid back several positions soon after the race got underway and was shuffled even farther back through the field when he made a lengthy pit stop during a caution that came out on lap 43 to fix his handling problems.
Sadler said after the race that the handling issue was a matter of he and his team assuming that the race would have a slower pace than it did, so the setup on the car wound up causing the splitter to hit the track significantly.
Kasey Kahne, who started second in the No. 38 Turner Motorsports Chevrolet, ran up front through most of the first quarter of the race until his lost the lead to Brad Keselowski in the No. 22 Penske Racing Dodge on a restart following a caution that came out on lap 69.
Kahne slid further back through the field and wound up finishing 10th.
Once Keselowski made his way to the front, he pulled away from the field slightly but lost the lead under a caution that came out on lap 96 when the No. 11 Joe Gibbs Racing Toyota of Brian Scott crashed hard into the wall. Keselowski took four tires during the caution, so Martin and Justin Allgaier in the No. 31 Turner Motorsports Chevrolet beat him off pit road by taking fuel only.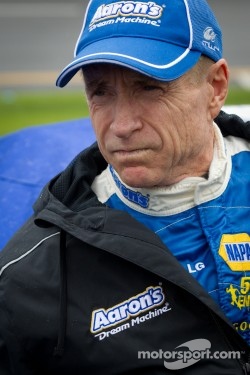 Mark Martin, Michael Waltrip Racing Toyota
Keselowski made his way past Allgaier soon after the restart and set his sights on Martin. But his crew had an issue getting the No. 22 car full of fuel during the pit stop, and he ran out of gas on lap 131. Keselowski then had trouble re-firing his car and had to serve a pass-through penalty for speeding on pit road once he got his car restarted.
Martin remained in the lead until Stenhouse beat him off pit road during the lap 144 caution. He ran second the rest of the way, as the view of Stenhouse in front of him kept getting smaller and smaller.
"That was a great comeback," car owner Jack Roush said. "They started the race with a non-competing car."
Trevor Bayne finished fourth in the No. 16 Roush Fenway Racing Ford, and Brendan Gaughan rounded out the top-five in the No. 33 Richard Childress Racing Chevrolet.
"I was better than that and worse than that at times," Bayne said.