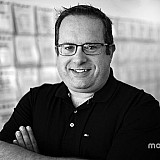 Add Brennan Poole to the list of drivers scheduled to run fulltime this season in the NASCAR Xfinity Series.
Chip Ganassi Racing on Thursday announced it would field Poole in the No. 48 Chevrolet with sponsorship from DC Solar. It will mark Poole's first full season of NASCAR competition.
Poole shared seat time in 2015 with Sprint Cup Series driver Kyle Larson and road-course specialist Justin Marks in the Xfinity Series. The 24-year-old native of Woodlands, Texas, competed in 17 series races in 2015, earning two top-10 finishes.
"It's an honor and a dream to be able to compete full-time and race for a championship. A huge thank you goes to all the folks at DC Solar and CGR for giving me this great opportunity," Poole said. "I learned a lot competing in the Xfinity Series on a part-time basis in 2015, which I believe sets me up for an even better 2016."
Veteran crew chief Chad Norris will lead Poole's team this season.
Poole has six career wins in ARCA competition, the most recent coming in the 2014 season. He finished a career-best third in the ARCA series standings in 2012. He has also made one start in the NASCAR Camping World Truck Series.
Poole's career-best NASCAR finish was ninth last season at Las Vegas.