Villeneuve grabs home pole in Montreal
Amanda Vincent, NASCAR Correspondent
At Circuit Gilles-Villeneuve, the fans were celebrating as Jacques Villeneuve earned the NASCAR Nationwide pole in Montreal

Joining him on the front row is Alex Tagliani

Jacques Villeneuve put the No. 22 Penske Racing Dodge, normally driven by Brad Keselowski, on the pole for Saturday's NAPA Auto Parts 200 NASCAR Nationwide Series race. On the Circuit Gilles-Villeneuve, the French-Canadian turned a lap of 101.800 seconds on Friday. Fellow countryman, Alex Tagliani, put another Penske-prepared Dodge on the front row by claiming the second spot for the No. 12 entry with a time of 101.935 seconds.

... we'll definitely be turning up with the goal of winning.

Jacques Villeneuve
"After our good showing at Elkhart Lake (at Road America in June), I know the No. 22 Discount Tire/Ruby Tuesday Dodge will be competitive, and together with the Penske team, we'll definitely be turning up with the goal of winning," Villeneuve said.
Jason Leffler, in the No. 38 Turner Motorsports Chevrolet, was the highest qualifier among series regulars with a lap time of 102.165 seconds. He starts third on Saturday. Scott Speed starts alongside Leffler in the second row. He drove the No. 33 Kevin Harvick Inc. Chevrolet around the road course in 102.284 seconds to claim the fourth starting spot.
"Having back-to-back road course races allows us to stay in the mindset of running a road course," Leffler said of the Nationwide Series racing in Montreal a week after taking on the road course at Watkins Glen International. "Coming fresh off of the Watkins Glen race, I'm still in that mode."
Michael McDowell claimed the fifth starting position for the No. 18 Joe Gibbs Racing Toyota with a 102.363-second lap, and he'll be joined on the third rob by Robby Gordon in the No. 77 Robby Gordon Motorsports Dodge. Gordon had the sixth fastest qualifying time at 102.365 seconds.
Cars hit the track in groups of six in road course-style qualifying. With 48 cars making qualifying attempts, race hopefuls were divided into eight groups. The drivers with the slowest practice speeds were in the first group and the six with the fastest practice speeds were in the eighth group.
Most of the top-six in qualifying came out of the final two qualifying groups, with Gordon and McDowell running in group seven and Villeneuve, Tagliani, and Speed going out in the eighth and final group. Leffler was the only driver from an earlier group to claim a spot within the first three rows on the starting grid. He was a part of group five.
Forty-eight cars attempted to claim one of 43 starting spots in the race. Jean Francois Dumoulin, Tim George Jr., Tomy Drissi, Brett Rowe and Chase Miller failed to make the race.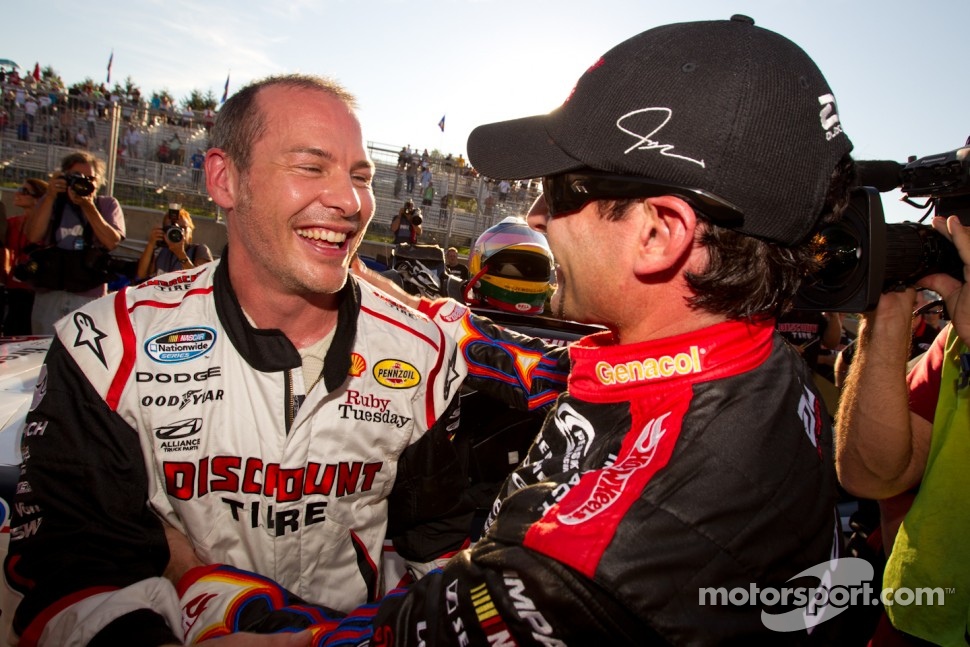 Pole winner Jacques Villeneuve, Penske Racing Dodge celebrates with second place Alex Tagliani, Penske Racing Dodge
Photo by: Eric Gilbert
Bet here
18+, UK residents only, T&Cs Apply, Gamble Responsibly
18+, UK residents only, T&Cs Apply, Gamble Responsibly