Toyota Motorsports press release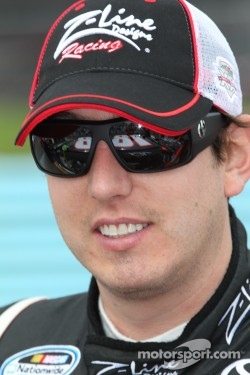 Kyle Busch, Joe Gibbs Racing Toyota
• Camry driver Kyle Busch (second) was the top finishing Toyota driver in Saturday night's NASCAR Nationwide Series (NNS) race at Atlanta Motor Speedway.
• Busch's finish was his fourth runner-up finish at the 1.5-mile oval and third consecutive second-place finish in the NNS at the Georgia speedway
• Camry drivers Ryan Truex (11th), Brian Scott (12th), Steve Wallace (13th), Joe Nemechek (18th), Kenny Wallace (19th) and Michael Annett (20th) were also in the field.
• Five Camry drivers are currently in the top-15 in the unofficial NNS point standings following 26 of 34 races in the 2011 season -- K. Wallace (seventh), S. Wallace (eighth), Scott (ninth), Annett (10th) and Nemechek (14th).
***
KYLE BUSCH, No. 18 Z-Line Designs Toyota Camry, Joe Gibbs Racing Finishing Position: 2nd
Did you have anything for Carl Edwards at the end of the race? "No. That's it. We were all kind of stuck on the bottom tonight. Wish we would have spread out and moved around and never did. Now can't say enough about these guys from Joe Gibbs Racing, all the guys here on this Z-Line Designs Furniture Toyota Camry. Good car, jut not good enough. We knew that it would be a race against the Fords. They got great under the hoods. Just hated that we didn't have enough under the hood to run with them a little bit better, but even in the long haul we got real loose an those guys seem to be better. We would equal out. Then I would be better. Then he would be better. It was all about how you could get to the bottom of the race track and how you could run the bottom. Overall, thank Z-Line, NOS Energy Drink, Pizza Ranch, Toyota, everybody. Thanks again."
Were you 'dirt tracking' around Atlanta? "That's all it is here anymore. I hated that the track didn't spread out more. I thought that this place would get to its normal self and we would be able to run the middle, run the top, but it never did. We were all kind if stuck around the bottom, so anytime you could get within three or four car lengths of the guy in front of you, you kind of stalled out and couldn't get by them unless they would slip on the bottom or get caught up in lap traffic or something. We had a great car. I can't say enough about the guys from Joe Gibbs Racing. They did a great job here on this Z-Line Designs Furniture Camry. Just hate it that we didn't have enough to go for the win and enough to race with the Fords there under the hood down the straightaways, but we'll take it and we'll move on to the next one, where ever the heck it is."
Why was the bottom groove the most popular tonight? "It was really great race overall, but just kind of disappointed the race track didn't spread out more. We didn't run the middle, the top or nothing. It was all kind of fast guys around the bottom, so that was unfortunate. But can't say enough about all my guys here on the JGR (Joe Gibbs Racing) Z-Line Designs Furniture Camry. They did a great job for me and gave me everything we needed, but just not quite enough. I felt like we were running them down and getting there, but maybe he (Carl Edwards) was toying with us."
Have the Roush Nationwide cars closed the gap on Joe Gibbs Racing? "Yeah. We used to have an advantage through the corners with our cars and the setup with the old car. We didn't have the advantage down the straightaway, so it equaled out. We were pretty good. Now, it seems like everybody is so equal through the corners that if you can get some straightaway speed that sort of accentuates your car and makes you look a little better. We don't have straightaway speed right now. We've got to get to work on that and try to make it better."
How do you feel about tonight's race? "I guess it was a good race. Certainly, the track didn't widen out like we always, normally expect it to do here. There didn't seem to be a very good middle or top side. Everybody was kind of fighting for the bottom and trying to run that yellow line around the race track. Hard to pass guys in that case when you try to get up behind them and you're slipping and sliding already and such on edge that when you get three or four car lengths behind them and lose more down force, then you're sliding even worse. Certainly was an exciting race there for a little while on restarts. You would run back and forth and dive bomb guys and get on their outside, their inside and once it kind of single files out then it's tough to go. You can see the cars that are free to start with kind of go to the front and then the guys that have better long run cars kind of come up through. I felt like we were one of the long run cars that certainly got better with laps. Just didn't have enough on the front side. If we had enough on the front side and enough on the back side then we would have been the best car here. Z-Line Designs Camry just wasn't quite what it needed to be, but was close and gave them a run for their money."
Why did the race track not widen out? "I don't know. I tried it in practice today and both the Nationwide Series and the Cup car and both times I went to the top I was slower. I hate to say it, but I think we're predicting the future for tomorrow and it's going to be a crash fest to the bottom. It's just too far around I guess and there's not that much grip up there anymore that you can get that sort of advantage. All the cars are equal and run pretty well and fast around the bottom that there's just not a good enough top side. The truck was the same way. I couldn't get the truck to work around the top throughout the race either. Kind of disappointing, but it is what it is."
***
RYAN TRUEX, No. 20 Schick Toyota Camry, Joe Gibbs Racing Finishing Position: 11th
How was your race tonight? "It was long and hard. We started off really good for about 10 laps. I got us hung out on that first start and I got stuck in the middle and got freight-trained there. After that we were just loose. No matter what we did, we couldn't fix it. At the end there we got lucky and we were able to put tires on and drive by a lot of those guys. I'm happy with the finish. I wish it could have been better, but I guess not bad for our first race together."
What does this opportunity with Joe Gibbs Racing mean to you? "It means a lot. It's a big deal for me. It's Joe Gibbs Racing. To have six races with them is pretty awesome so I am just going to try to make the best of it."
***
BRIAN SCOTT, No. 11 Boise State Broncos Toyota Camry, Joe Gibbs Racing Finishing Position: 12th
How did your car handle in the race? "We fought hard all day. We had two runs where we were just way too loose and we gave up a bunch of track position. Luckily, a caution fell when we needed it to and we got the lucky dog and we got back in the game. We still had tires left - - we put tires on and we had a restart and we started 13th and I thought we were going to be pretty good with 20 laps to go or whatever. The 31 (Justin Allgaier) and the 32 (Reed Sorenson) wrecked and they just got a little piece of it down the right side. From that point on we were just too tight until the end of the race and we were hanging on just trying to get what we could get. Too fast to get up there and get a top-10, but all in all for a hard day here in Atlanta, we'll take 12th and we'll go on. Our Boise State Bronco isn't torn up too bad and it's a good car. It will live to race another day."
What type of reaction did you get driving the Boise State car tonight? "I got a whole lot of boos going around and a whole lot of people yelling, 'Bulldogs,' so I just pointed at my suit and yelled, 'Broncos' back. It's all been fun and it's all been in good fun. It's been a lot of fun to have the Boise State Broncos on the car and it's gotten reactions out of people -- good, bad, indifferent, but it's fun to see people care."
***
STEVE WALLACE, No. 66 5-Hour Energy Toyota Camry, Rusty Wallace Racing Finishing Position: 13th
JOE NEMECHEK, No. 97 NEMCO Toyota Camry, NEMCO Motorsports Finishing Position: 18th
KENNY WALLACE, No. 09 G-Oil Toyota Camry, RAB Racing with Brack Maggard Finishing Position: 19th
MICHAEL ANNETT, No. 62 Pilot/Flying J Toyota Camry, Rusty Wallace Racing Finishing Position: 20th
JOHN JACKSON, No. 72 crashclaimsR.US Toyota Camry Finishing Position: 31st