Joe Gibbs Racing press release
KYLE BUSCH
Designs on Another Z-Line Win at Charlotte
HUNTERSVILLE, N.C. (Oct. 11, 2011) – From A to Z, any way you look at it, the combination of driver Kyle Busch, sponsor Z-Line Designs and the No. 18 Toyota Camry for Joe Gibbs Racing (JGR) is a recipe for success on the highly competitive NASCAR Nationwide Series circuit.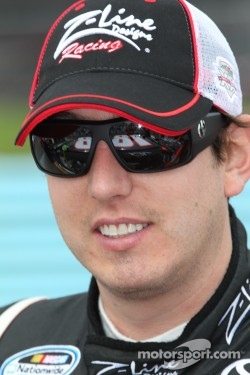 Kyle Busch, Joe Gibbs Racing Toyota
Consider that, while flying the colors of the California-based award-winning designer and leading import manufacturer of ready-to-assemble furniture for home office, home décor and home entertainment, Busch and the No. 18 JGR Toyota team have been to victory lane seven times in 14 Nationwide Series starts this season. Over the last four seasons, since the company began its successful partnership with JGR in 2008, Busch has won an astounding 23 of 52 Nationwide Series races while sporting Z-Line Designs livery. That's a winning percentage of 44.2.
They'll hope to go one better at Friday night's Dollar General 300 Miles of Courage Nationwide race at Charlotte (N.C.) Motor Speedway and, the way things have been going, it's a good bet Busch, Z-Line and the No. 18 team will be right back in victory lane. It will be their sixth consecutive start together this season, with finishes of first, fourth, first, second and first in the previous five events at New Hampshire, Watkins Glen, Bristol, Atlanta and Richmond, respectively. In their three previous starts together at Charlotte, Busch and Z-Line have a win in the 2009 fall race and a third-place finish this past May to their credit.
So, after sitting out the previous three Nationwide Series events in the interests of enhancing his performance in the all-important Chase for the Sprint Cup, Busch is no doubt fresh and ready to continue his winning ways on behalf of Z-Line this weekend on the Nationwide circuit.
Kyle Busch, Driver of the No. 18 Z-Line Designs NASCAR Nationwide Series Toyota Camry:
Do you enjoy racing the night race at Charlotte?
"Charlotte is always fun because it's cool for us. It's my favorite track, but it's cool for a lot of teams because it's kind of – quote-unquote –
close to home. I like going there. It makes things interesting with the night race. Practicing during the day and racing at night and the cooler temperatures and everything. You've got to put your best foot forward and work as hard as you can."
What do you think about practicing during the day, qualifying at night, and then racing at night at Charlotte?
"Charlotte's a tricky track because we practice during the day and then we race at night, so all the practice time you get, the track's really hot, it's really slick and, obviously, it's pretty slow. A lot of stuff changes when you go into the nighttime – the way the track is, the way the loads are, the way the speed is. For us, it's fun. I enjoy Charlotte. It's a neat place for me to go race at."
Have you ever been in a high-pressure situation where you felt like you didn't perform to the best of your ability?
"Every week. There are 43 guys out here every week who, if they don't win, they didn't meet the potential that they wanted to. There have been times where we won races and we didn't feel like we reached everything we needed to reach. It's high pressure, it's high stakes, there's a lot on the line, and this is a big performance business and certainly you've got to make the most of it. We're trying every week."
Jason Ratcliff, Crew Chief of the No. 18 Z-Line Designs NASCAR Nationwide Series Toyota Camry:
Why do you believe that Kyle has been so good at Charlotte Motor Speedway in the Nationwide Series?
"Being that it's a mile-and-a-half, high-banked racetrack, it's a momentum-style track and it really fits his style. I've talked to him about that. He's good at Texas, he's good at Atlanta, he's good at Charlotte, those tracks seem to be similar. But, when you talk to him about it from the driver's seat, those tracks all seem to be different to him even though, from a the average spectator's viewpoint, or from sitting atop the pit box, they don't appear to be different. And it's not like the set-ups are drastically different. So, there's something about Charlotte and something about the way we approach the racetrack that just fits his style and he always loves going to Charlotte, which is good because we always have a good car there and it's an important race."
How important is the Charlotte race to you since there is so much family and so many friends located there?
"That's a track where, a lot of times, you have family and friends who come with you because they don't have to travel. It's always fun to win when you have some friends and some family there and you're able to take them to victory lane with you and have a good time, there. It's hometown territory, so everybody's battling to win that one and that makes it cool. We've had a couple of wins there and they've been exciting. We thought we had a good car in the first race this year. This one will be extremely important for us because our mile-and-a-half program has not been that good this year. I feel like we've learned some things in the last few months so I feel we can go back to Charlotte and be successful at it."
Kyle Busch's No. 18 Z-Line Designs Toyota Camry
Chassis No. 18-135: This car's debut came in September at Atlanta Motor Speedway, where Busch started third and led 31 of 195 laps en route to a second-place finish. Busch finished .697 of a second behind winner Carl Edwards.