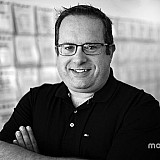 Paul Menard wins at home after a caution that went on for more than half an hour.
Paul Menard needed to save two laps of fuel in order to make it to the end of Saturday's Xfinity Series race at Road America.
This time, NASCAR was more than happy to oblige.
A caution that began with 10 of 45 laps remaining when Ben Rhodes got stuck in the gravel pit stretched seven laps – nearly a half-hour on the 4-mile road course.
He (Menard) got lucky with them keeping it under caution and we're not too happy with that but what can you about that?

Ryan Blaney
When the race restarted with three laps remaining, Menard quickly swiped the lead from Michael Self and then had to hold off a hard-charging Ryan Blaney to earn his first series win of the season and third of his career.
"Everyone kept dropping out (of the race). I thought we were good on fuel. We needed two laps and with that caution we got way more than that," Menard said.
"When we fired off (on the restart) the left-rear tire chattered really bad and it took a couple laps for it to come in."
Twice in the closing laps, Blaney got to Menard's bumper, once making contact, but Menard was able to pull away each time.
Caution costs Blaney
"Blaney started to burn his stuff up," Menard said. "We fired off pretty good at the end and it came to us."
Blaney felt he would have had a much shot at the win if it had not been for the long late-race caution.
"This was a really fun race, even though it had a lot of strategies – but that's kind of how it always is," he said. "If we wouldn't have run six laps under caution at the end, (Menard) would have run out and we would have been fine.
"He got lucky with them keeping it under caution and we're not too happy with that but what can you about that?"
Menard's last series win came last June at Michigan. Saturday's race was the second Menard has won in his home state of Wisconsin. His first win in 2006 came at The Milwaukee Mile.
Buescher maintains championship advantage
Brian Scott finished third, Chase Elliott was fourth and Darrell Wallace Jr. was fifth. Series points leader Chris Buescher ended up ninth and holds a 16-point advantage over Elliott with 10 races remaining this season.
Elliott, who led the most laps (23) but went off-course late in the race, was hard on himself after the race despite his rebound into the top-five.
"I absolutely failed today. Way too many mistakes on my part and I screwed it up for my guys," he said. "It's absolutely unacceptable. We can't have that."